F.R.I.E.N.D.S is certainly an iconic show which even today is so relevant. And why not it has always been a feel-good show! So it was fun to collect Friends theme bullet journal ideas that would make your day. But it was indeed a task to select only a few and make a curated list for you. These Friends theme bullet journal ideas will lighten you up as the theme itself is very easy-going and fun to recreate. 
So with these Friends theme bullet journal ideas ask yourself every day, "How you doin?"
Here are some unique themes for your bullet journal ideas that you can check out- 30+ Bullet Journal Coffee Theme Ideas For Your Bujo Pages, 28 Bright Sunflower Bullet Journal Ideas.
1. Oh My October
If you want simplicity then this is the perfect Friends theme journal for you. This layout by bujologistgram is simple. The colors used are enough to tell a F.R.I.E.N.D.S fan that it has the vibe of the show. And the title is certainly aligned with the pattern of how the episodes are named. The addition of the colorful umbrellas is just too perfect. With this bullet journal spread it will be fun to maintain the BuJo pages.
2. Friends theme bullet journal Weekly Spread
Weekly spreads are my favorites. For someone who has too much on the plate and little time to manage it all, weekly spreads are perfect. This Friends theme bullet journal idea is just too cute, and convenient. Bujologistgram has used the iconic Friends umbrellas to give this layout that funky touch. And how can one miss the famous Thanksgiving turkey!
3. Friends theme BuJo Pages
I love how this layout turned out. It is simple yet so elaborate. This Friends theme bullet journal layout by snnobish_cat has all the iconic dialogues from the show. Even though the spread-out is simple, the colors used and the addition of the quotes is certainly going to please you.
4. The One With the Smelly Cat
If there is one song that is catchy after the title track of this world-famous sitcom it is certainly Phoebe's Smelly Cat! Bujologistgram has prepared this weekly spread with the help of just the caricature of the six friends whose friendship makes us all jealous and nostalgic. The layout is simple with some iconic things like the smelly cat, unagi, and the six friends.
5. Be 'Friends' with Habit Trackers

Habit tracker and sleep tracker are my favorites. They are so important to have a healthy lifestyle. Snnobish_cat has kept things minimal. And as we know minimalism is the trend now this layout is too good to ignore. So if you are a soul that appreciates minimalism then this one is for you. With just the colorful dots, she has created an effective Friends theme bullet journal.
6. The Door Frame

The purple door and the yellow frame that frames the eyehole are iconic. This August Friends theme bullet journal idea by journalofpsychstudent is so cool! I am loving the turkey on the side, reminds me of the funny Thanksgiving night of Joey. Jokes aside, the layout is simple and clean. It is a monthly layout that enables you to have an overview of what the month will look like. The extra space for important dates is just what we all need in our BuJo pages. Here you can write down all the important events and commitments that you have lined down for the month.
7. I'll Be There For You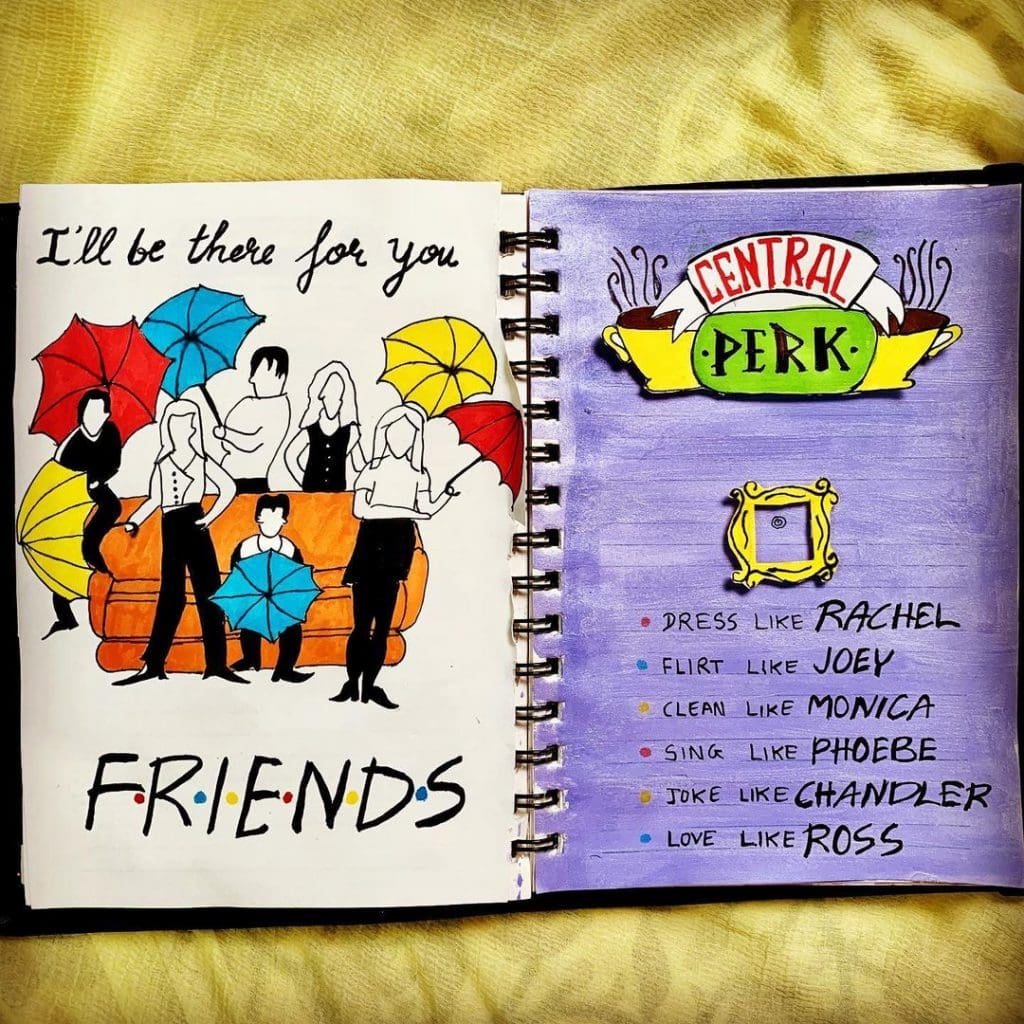 How can one even get enough of this iconic song! Thelittlewings has created a layout that screams FRIENDS so loud that it will make you nostalgic. From the purple door to the yellow frame, to the famous couch and the iconic cafe, Central Perk, this one certainly is a true Friend theme bullet journal. 
8. Friends with September
This layout is the epitome of simplicity and significance. Cosmicnei has included everything that makes the sitcom a legend. Friends theme bullet journal is indeed an interesting concept that will lighten up your mood. This layout has used basic doodling and has taken it to a new level. The doodles are simple and easy, but if you are not into doodling you can also use stickers just to complete the whole Friends look.
9. Unagi

Ross and his Unagi are infamous! Halcyonreverie_ has utilized the theme to the fullest. I like how this is more of a Ross-themed layout than a Friends theme bullet journal layout. And this is certainly a doable spread out as you can see it there are no doodling and only stickers. I like how she has named the expense section as 'the one with the expenses' staying true to the Friends theme.
10. The One With the Couch

If I had to choose one layout out of this list it would be this one. Cindyjournals has kept things so simple that this layout looks almost like the poster of the show itself. To be honest, I like how it only says "I'll be there for you", it is almost like the bullet journal is assuring you that there is nothing to worry about.
11. Hey September

Another monthly layout in this curated list of true Friends theme bullet journals. Bujo_babes has kept the layout so clean. I like how decluttered this one looks. The layout is simple where she has framed the month tactfully with the iconic yellow frame on the door of Monica's apartment. There is a dreamy vibe going on this BuJo page.
12. Friends Theme Mood Tracker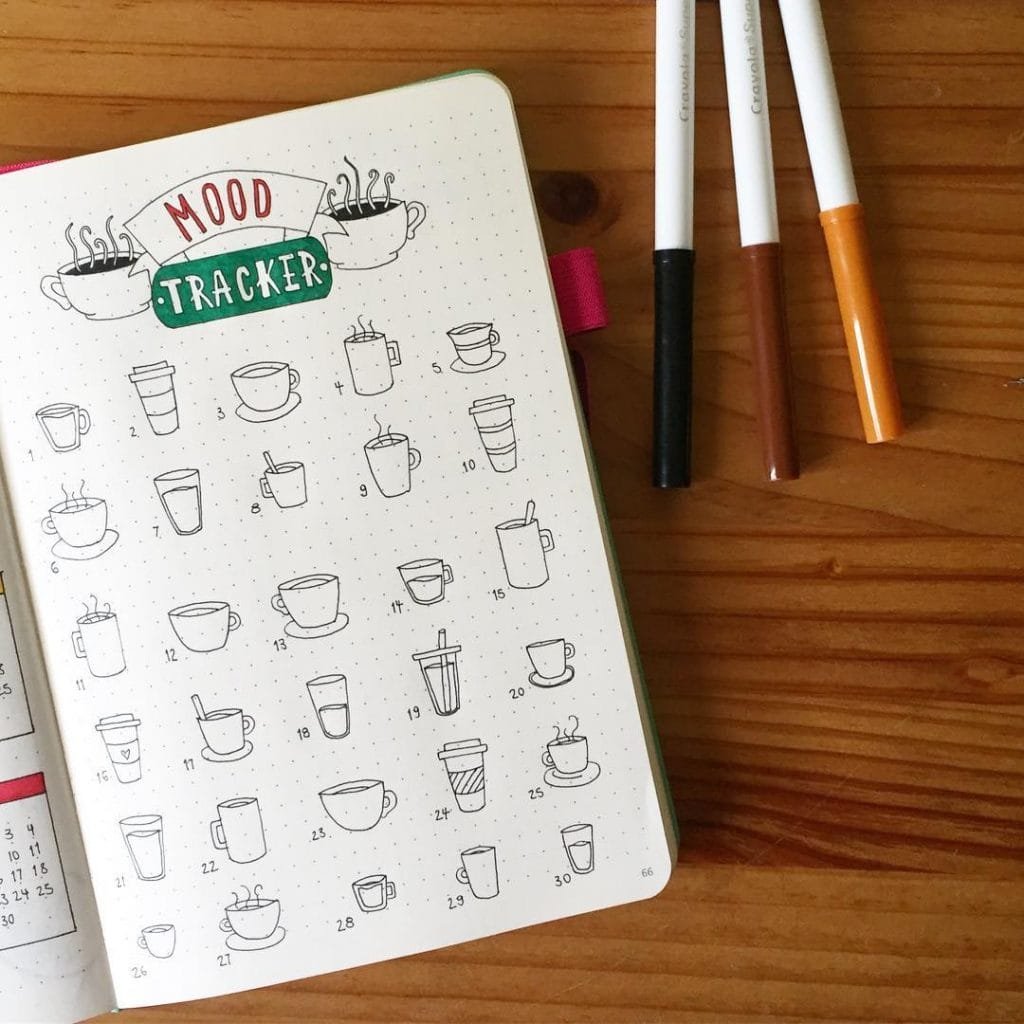 How about some coffee to fix that mood? Who doesn't like some good coffee to start the morning with? And I love how bujo.sue has used these versatile coffee mugs as mood trackers. So let yourself track your mood and remember the friends at Central Perk.
13. Happy February

Every monthly layout comes with the same promise of having an overview of the month. But this one by cindyjournals comes with something extra. It is the little space left for the goals of this month. I personally love it! What is after all a bullet journal if it doesn't let you jot down your goals and targets for the month! So with this BuJo page ask yourself every day "How you doin?"
14. A New Year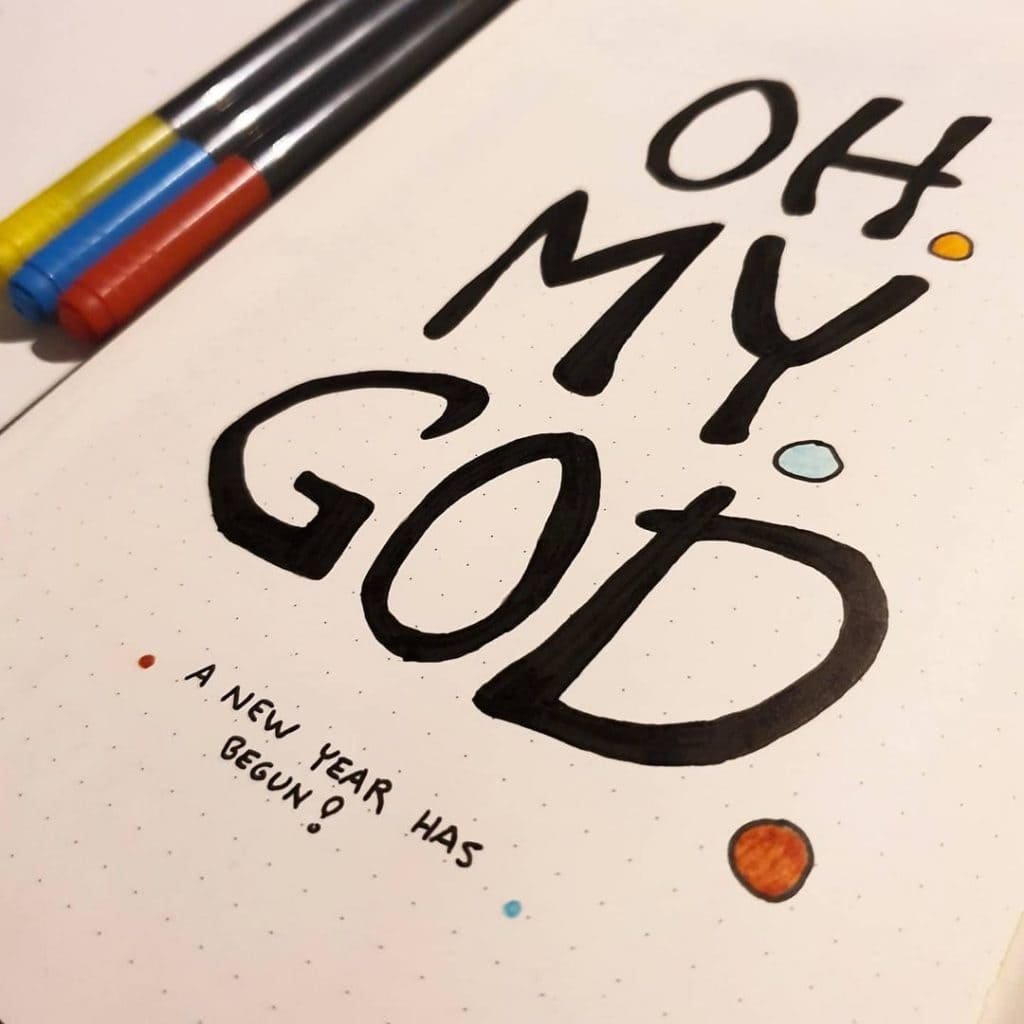 Begin the new year with a boost of excitement. Stella.journals have a layout that is simple yet screams Friends from every angle. So get excited just like Janice with this "Oh My God" Friend theme bullet journal.
15. The One with Washi Tapes
I like how everything looks good with some washi tapes. This weekly spread by aleksandra_borowska.art is old school. But what i like about this one is the use of the cut outs from the sitcom itself. This makes the whole theme play easy and strong. With just some funky washi tapes and clips of your favorite scenes you can easily achieve this Friends theme bulle journal.
16. Hugsy is that You?

Hugsy is all set to get you ready for the week with this weekly layout. Sianbenshaanan has kept the layout simple and easy. So let your BuJo page remind you everyday that even though the world sucks, you are going to love it just like Rachel learnt it.
18. Central Perk is Waiting

Shasam.bujo has created this layout which looks nothing less than a dream. It has it all. It not only has the weekly spread but also a tracker and the little notes section is just what we need. I like how she has also included the monthly calendar along with the weekly layout.
19. The One with the Birthday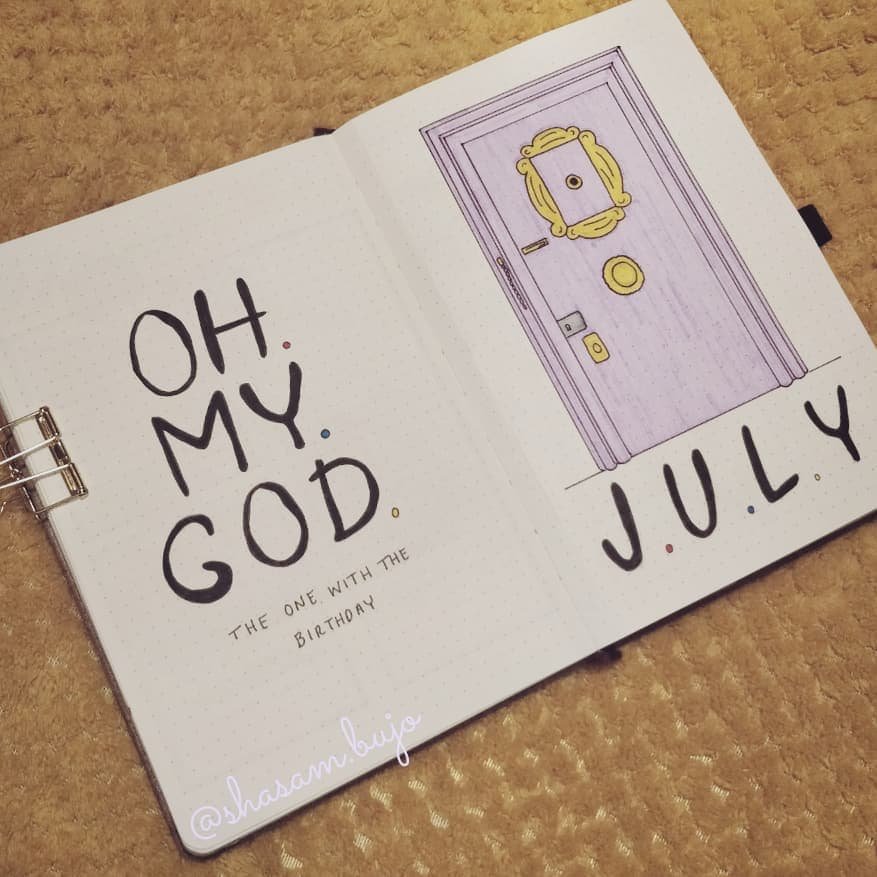 Shasam.bujo has aimed at something that is simple and yet so symbolic. No one can ever forget that iconic door of Monica's apartment that we see the 6 friends walk out of one last time. So go ahead and create this iconic purple door and let your plans flow.
20. 2021 at a Glance

Yearly spreads are much more compact than a monthly or weekly spread. And this is what makes them so easy to maintain. Austingodoodles has come up with this year at a glance layout that will allow you to have a look at all the important dates and events coming your way.
21. Welcome 2021

With 2020 being the pandemic year, we all have been looking forward to a fresh start in 2021. This layout by simplysweetsamplans makes me hopeful. To recreate this beautiful Friends theme bullet journal for 2021 and make new plans and accomplish the unachieved plans of 2020.
22. Central Perk Friends Theme Bullet Journal

This monthly view Friends theme bullet journal for the month of September is so clean and chic. It is so well arranged. This will certainly keep your days decluttered. Bujo.sassy has chosen a really simplified layout that will keep your schedule in place. But the extra touch of the Friends theme has brought everything together in perfect harmony.
23. Paint Your Mood

Umbrellas and F.R.I.E.N.D.S have a close connection. Lazyjournaling has chosen a smart way to give this mood tracker a Friends theme. All you have to do is color the umbrellas according to your mood. It is indeed an interesting way to track your mood.
So there you go. We have come to the end of an interesting and unique list of options for your Friends theme bullet journal. Do let us know your favorite one in the comment section people. Happy journaling!
If you loved these ideas, you can use the Pin image below and save this article on your 'Bullet Journal Themes' Pinterest board.