Bullet journaling is in the vogue, and the bullet journal coffee theme is perhaps the flavor of the month. Winter is here and you probably are getting cozy in this holiday season. It is the end of the year, there is a lot to be thankful for, and a lot to plan for this holiday season. And nothing keeps you more motivated than a bullet journal. Bullet journaling is a good way to keep yourself focused and goal-driven. But it is also a reflection of your own personality. So you can personalize your bullet journal according to your own taste. 
Keeping in mind the winter season, we have here a curated list of bullet journal coffee theme ideas. So if you are a coffee lover and are looking for some cute bujo pages ideas then you have come to the right place. You can also check out our November bullet journal ideas here on 34+ November Bullet Journal Ideas For Your Bujo.
Table of Contents
Bullet Journal Coffee Theme Cover Page Ideas

The cover page of your bullet journal is more important than you think. The cover page of your bullet journal is the reflection of your personality. Yes, just like the wall painting you have in your drawing area talks a lot about you, so does your bullet journal. Thus making the cover page crucial. Moreover, the purpose of a bullet journal is to keep you motivated, needless to say, something that a little cute and a little reflection of you, will certainly help you to stay focused.
1. It is September Already Bullet Journal Coffee Theme Idea

This bullet journal coffee theme idea for your September cover page is all that you need to keep you motivated in this season. The coffee theme by paigeflemingo will keep you warm and make you long for the fall. The addition of the calendar on the cover page is certainly an advantage.
2. It is Always Time For Coffee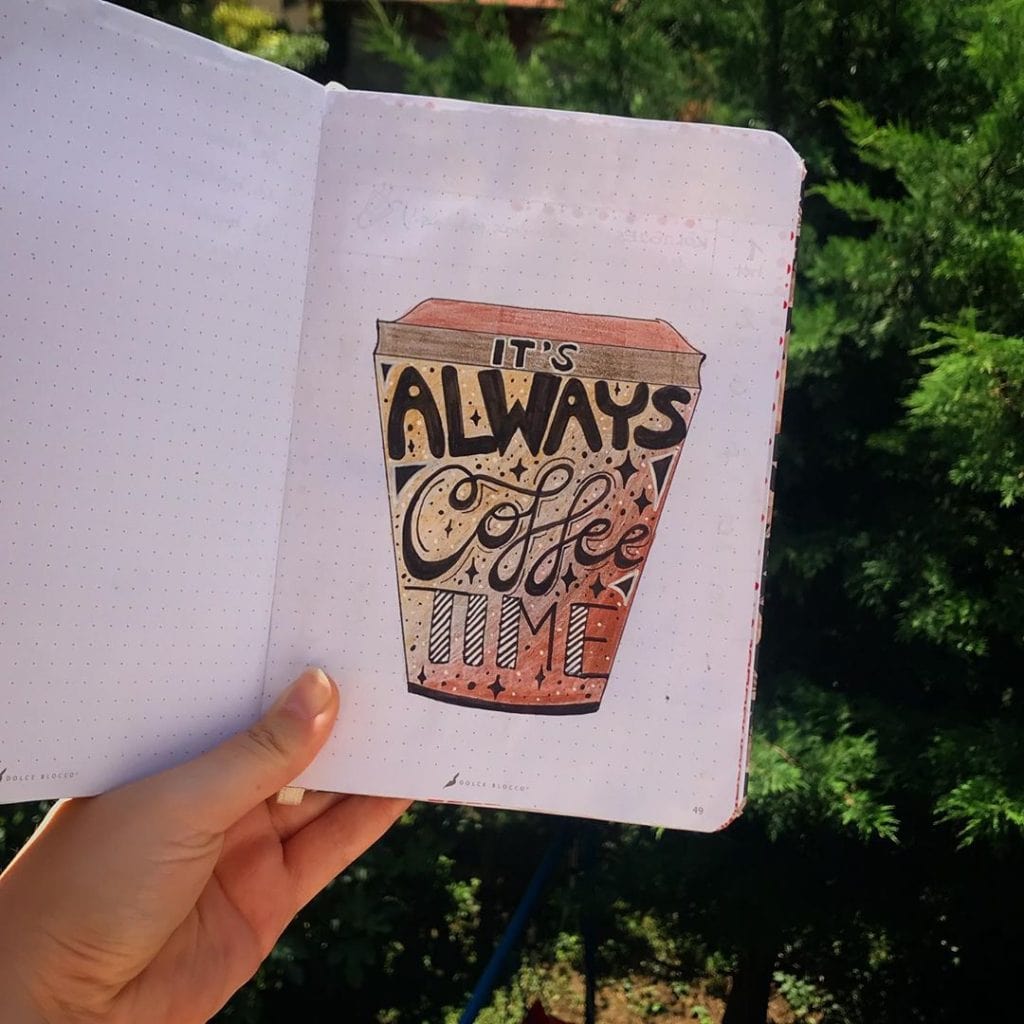 This bullet journal coffee theme for your cover page by hannamitrovics is an excellent choice for a coffee lover. The cover page gives it all away. One look at this cover page and you know it belongs to a coffee lover. If you are someone who can't imagine a morning without coffee, then this should be your pick.
3. Enjoy Every Moment Bullet Journal Coffee theme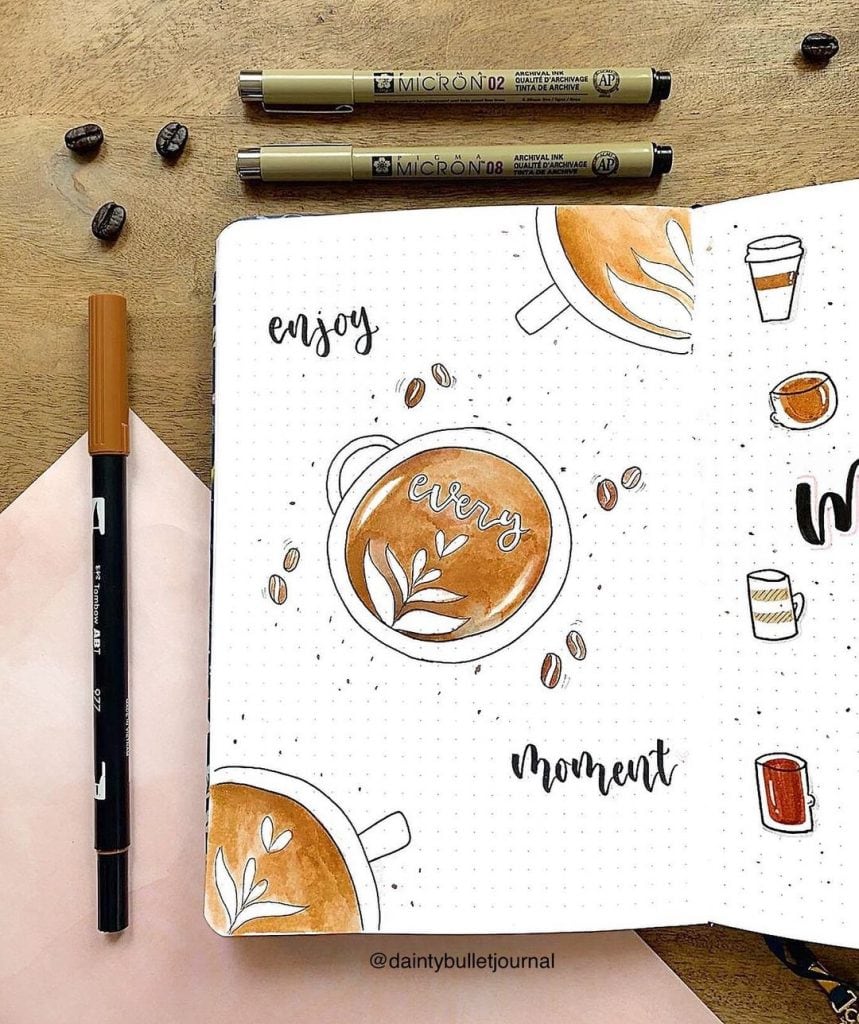 This bullet journal cover page by daintybulletjournal is a reminder that every moment is to be enjoyed and lived like the last. This is a perfect cover page idea to remind you every day that every moment counts. This will keep you motivated for the month to achieve your goals. 
4. It is Coffee Time Bullet Journal Coffee Theme Cover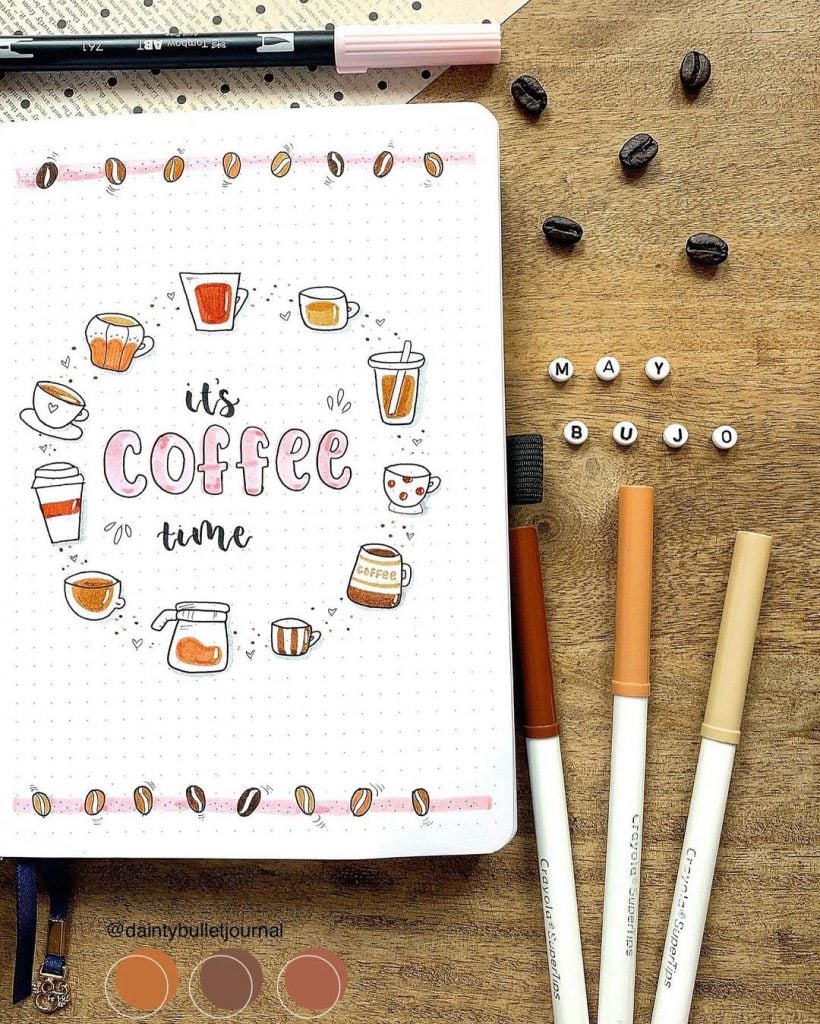 This cover page by daintybulletjournal is homely and a little reminder about the small things in life. The warmth on the cover page of this journal is going to motivate you to start your day and reach your set goals. The homely feeling on this cover page is everything you need to push yourself a little more.
5. The May Bujo idea

This bullet journal coffee theme idea for the May cover page by daintybulletjournal is simplicity at its best. The doodles on this cover page are simple and easy to recreate. It makes the cover page look gorgeous with minimal effort. Needless to say, it is also proof that you are a hardcore coffee lover.
6. Coffee Time Bullet Journal Coffee Theme Cover Page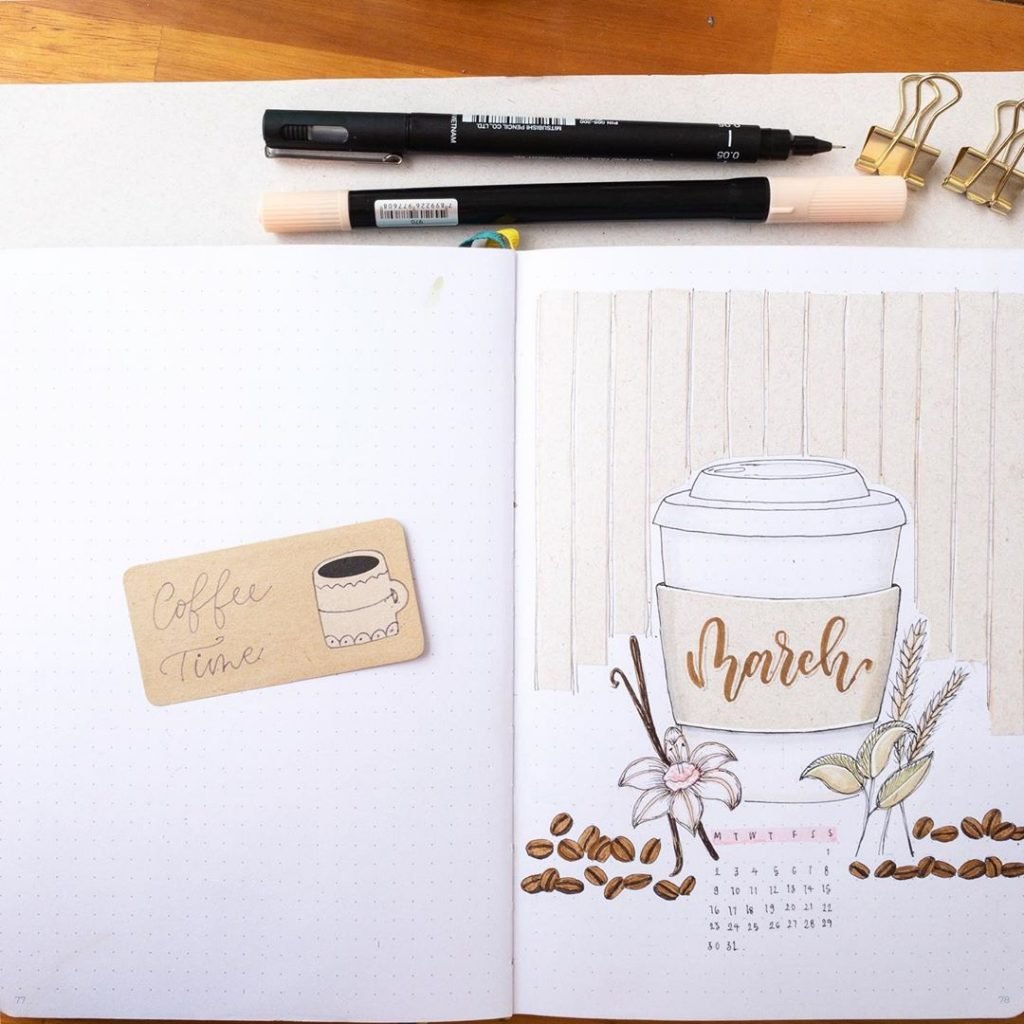 This bullet journal for the month of March by wellnessplanned is cute and a depiction of minimalism. Coffee is more than just a beverage. It is more of a vibe and atmosphere. The color scheme of this cover page creates a relaxing mood. On a busy day, it will remind you of the long-forgotten coffee you had with your family or with your friends.
7. Coffee is Always A Good Idea Cover Page Idea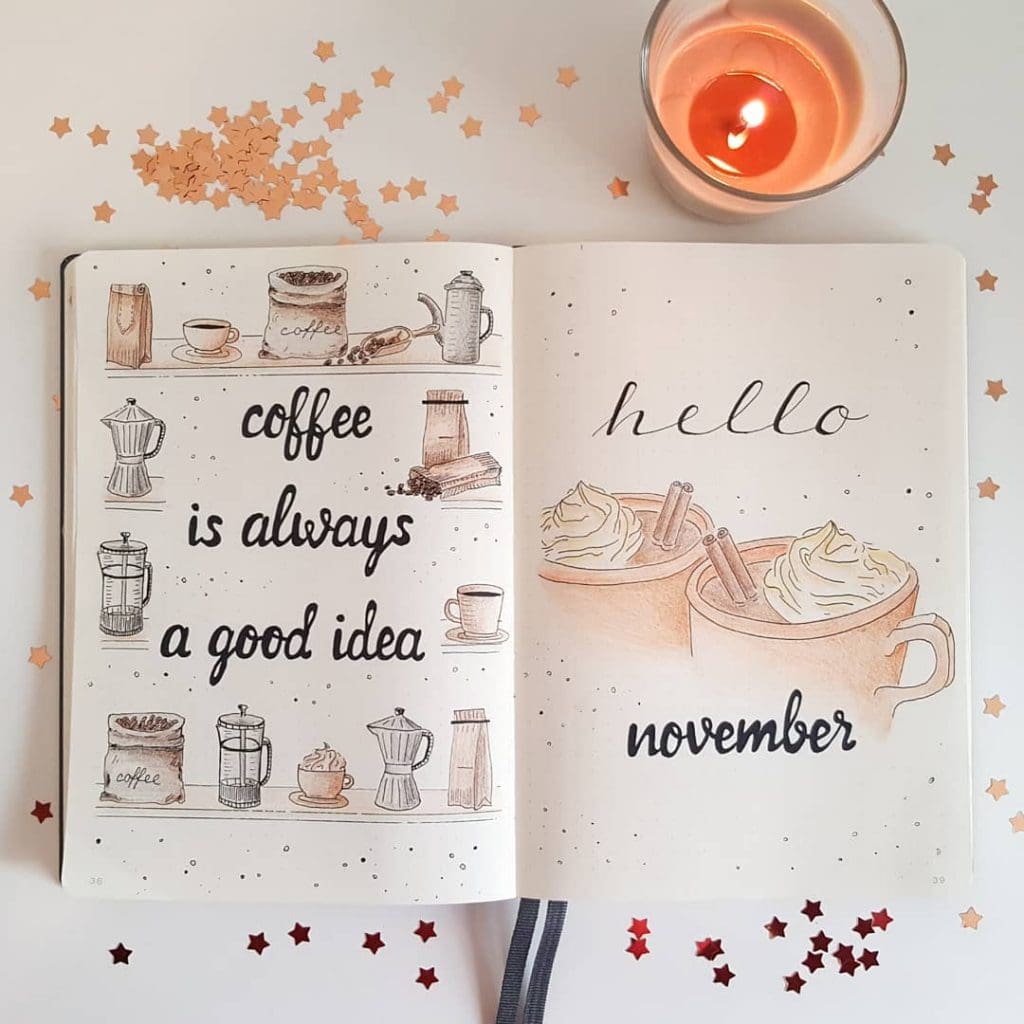 This bullet journal coffee theme idea by sunshine_journal_ is a perfect reminder of the winter mornings. It is simple and easy to recreate. The beautiful doodle of the warm cup of coffee topped with some whipped cream and cinnamon sticks is what will keep you from lazing around in the holiday season of November.
8. Change The World Bullet Journal Coffee Theme Idea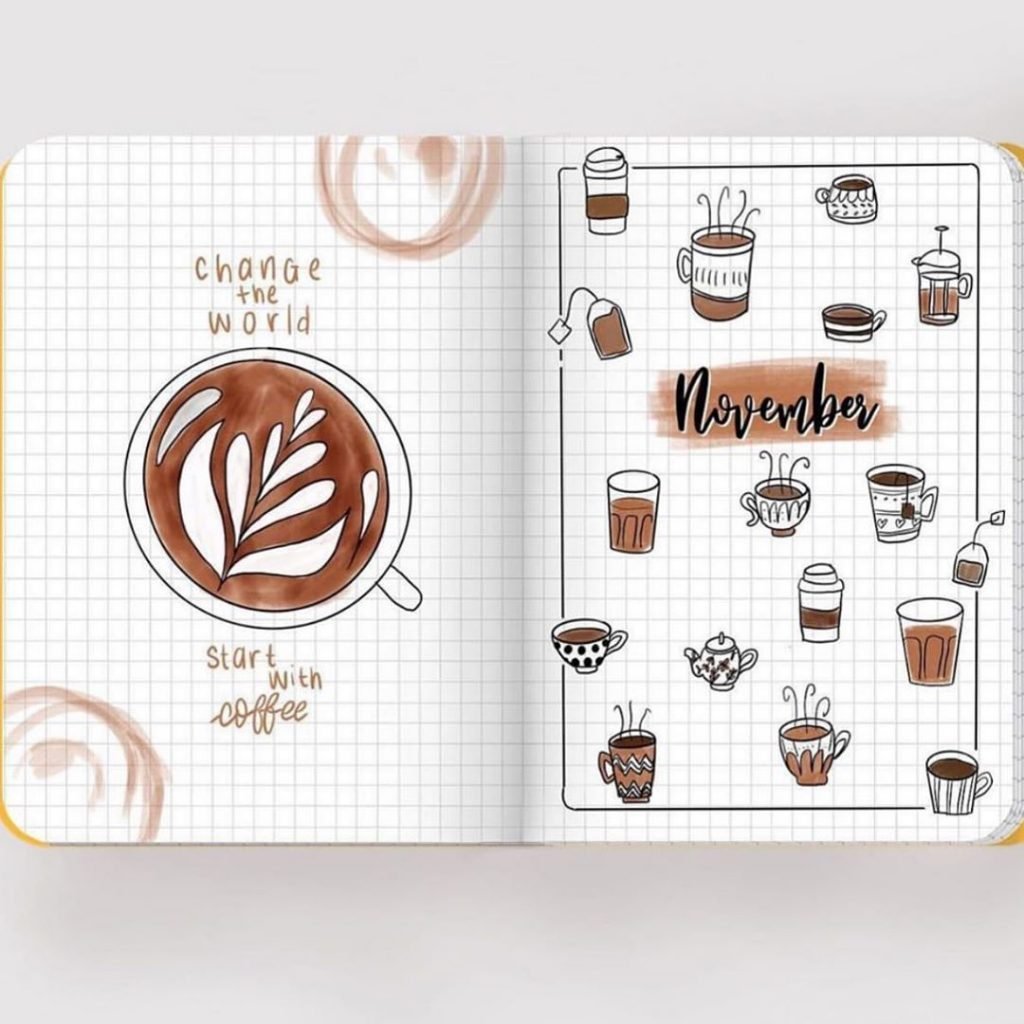 What is a coffee themed bullet journal without the exquisite spread of coffee doodle on the cover page? This bullet journal cover page idea by bulletjournal_babe is going to answer your question. With the simple doddle of all kinds of coffee beverages, from espresso to cappuccino, this bullet journal cover page is a cute creation.
9. July Bullet Journal Coffee Theme Idea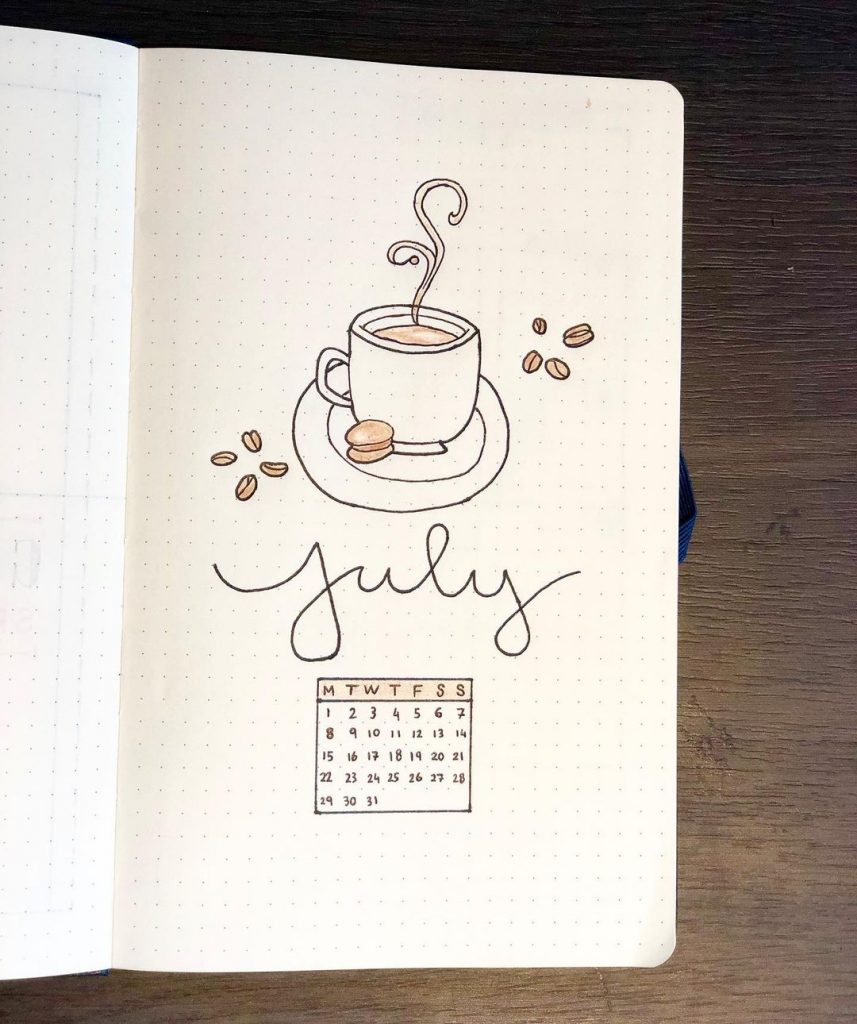 This cover page idea by moodyplans is a good choice if you are new to bullet journaling. It is simple and easy to make and will take only minimal effort and time. And you will be all ready to set and achieve new goals every day.
10. Hello September Bullet Journal Coffee Theme Idea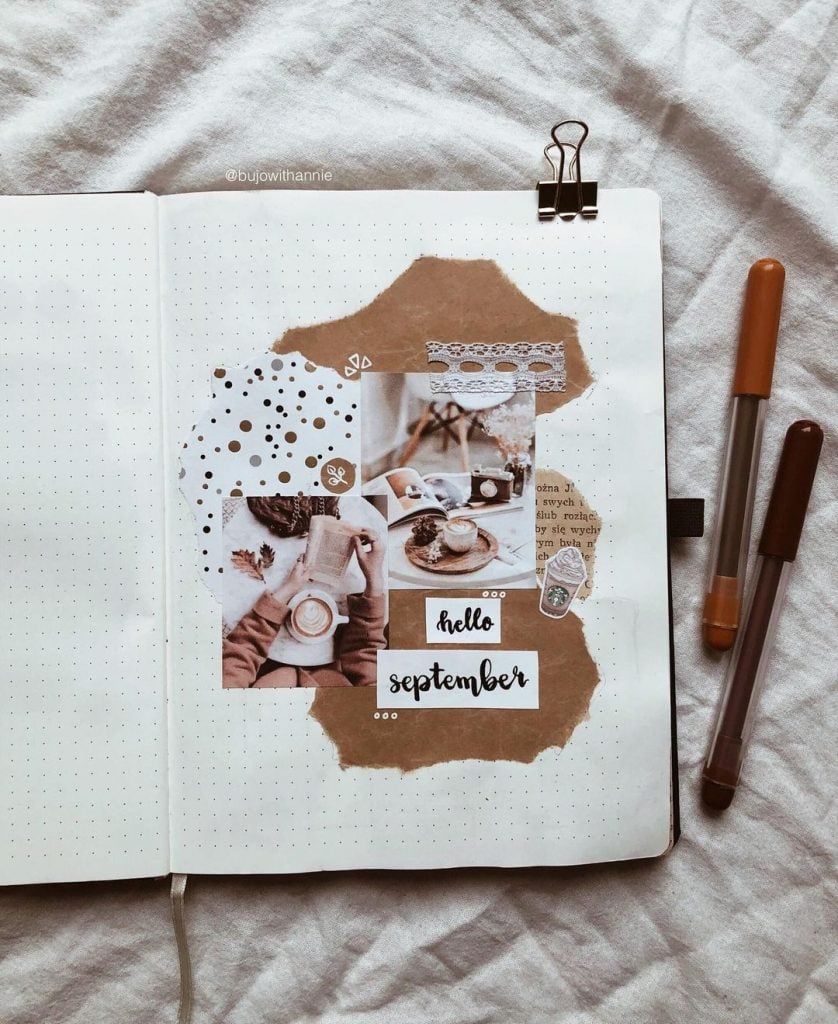 This bujo cover page for the month of September by bujowithannie is a simple solution if you don't want to doodle on the cover page of your journal. You can simply take some old snaps of your coffee mug, or some coffee shop you like, and paste it on the cover page. This will give the cover page an aesthetic look and a personal touch simultaneously. If you are not confident enough about your doodling skills, this is a simple solution to your problem.
Bullet Journal Coffee Theme Ideas For a Weekly Spread

A weekly journal has a greater prospect than a monthly spread journal. A monthly spread is for larger goals while a weekly spread is a better option for more concentrated goals. Moreover, a weekly spread gives you the opportunity to make more entries and move the goals and adjust your work on a day to day basis. People often prefer a weekly spread more than a monthly spread. But sure they both have their own charms. You can always personalize your weekly spread according to your work and schedule. You can also add a personal touch or give it a theme to suit your choice. 
But if you are new to bullet journalling, then here are some brilliant bullet journal coffee theme ideas for your weekly spread.
1. Coffee Weekly Spread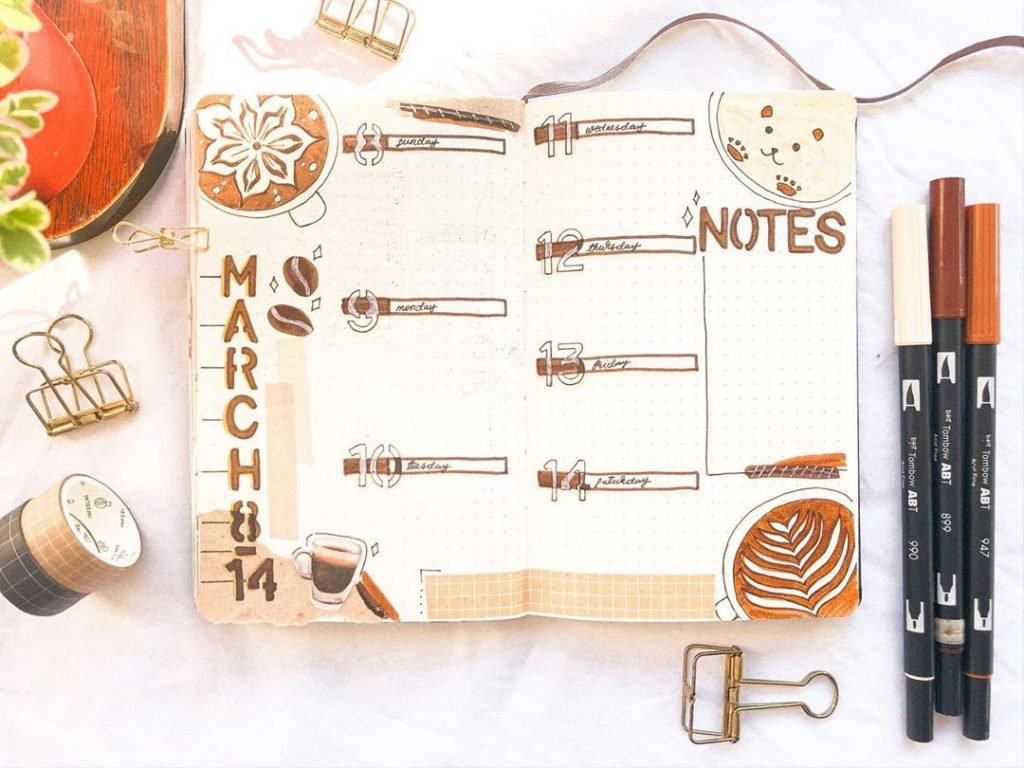 This coffee themed weekly spread by wonderjournals is cuteness overloaded. Personally, the cute foam bear at the top right corner is adorable. The best part about this coffee themed spread is the ample amount of space given to manage your work and your daily schedule effortlessly. 
2. Love You A Latte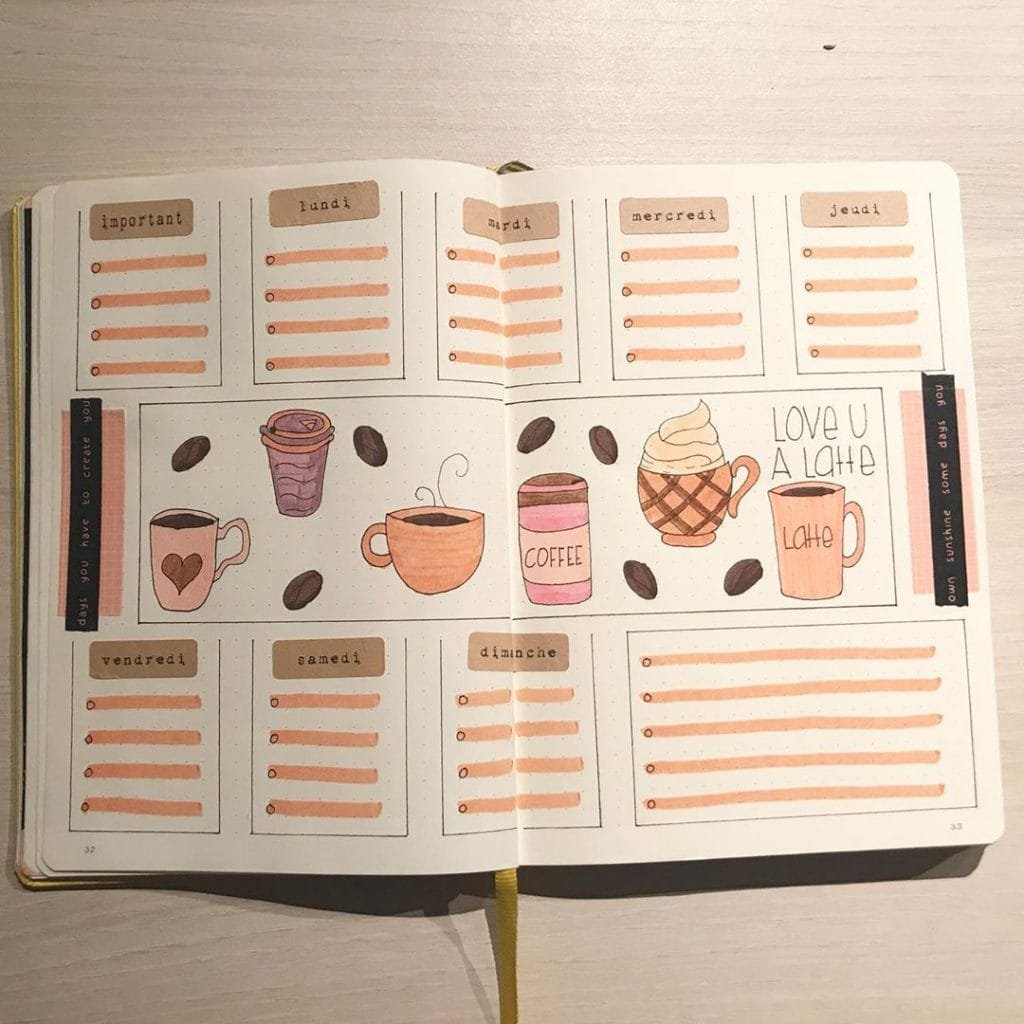 This weekly spread by cin_bujo is simple and spacious. If you are looking for a simple weekly spread with simple yet cute doodles then this is the one for you. This journal has a simple layout and will hence be easy to manage on a daily basis. Especially the space for extra notes is a blessing, as we all can use some little extra space to manage our time.
3. Coffee Addict Weekly Spread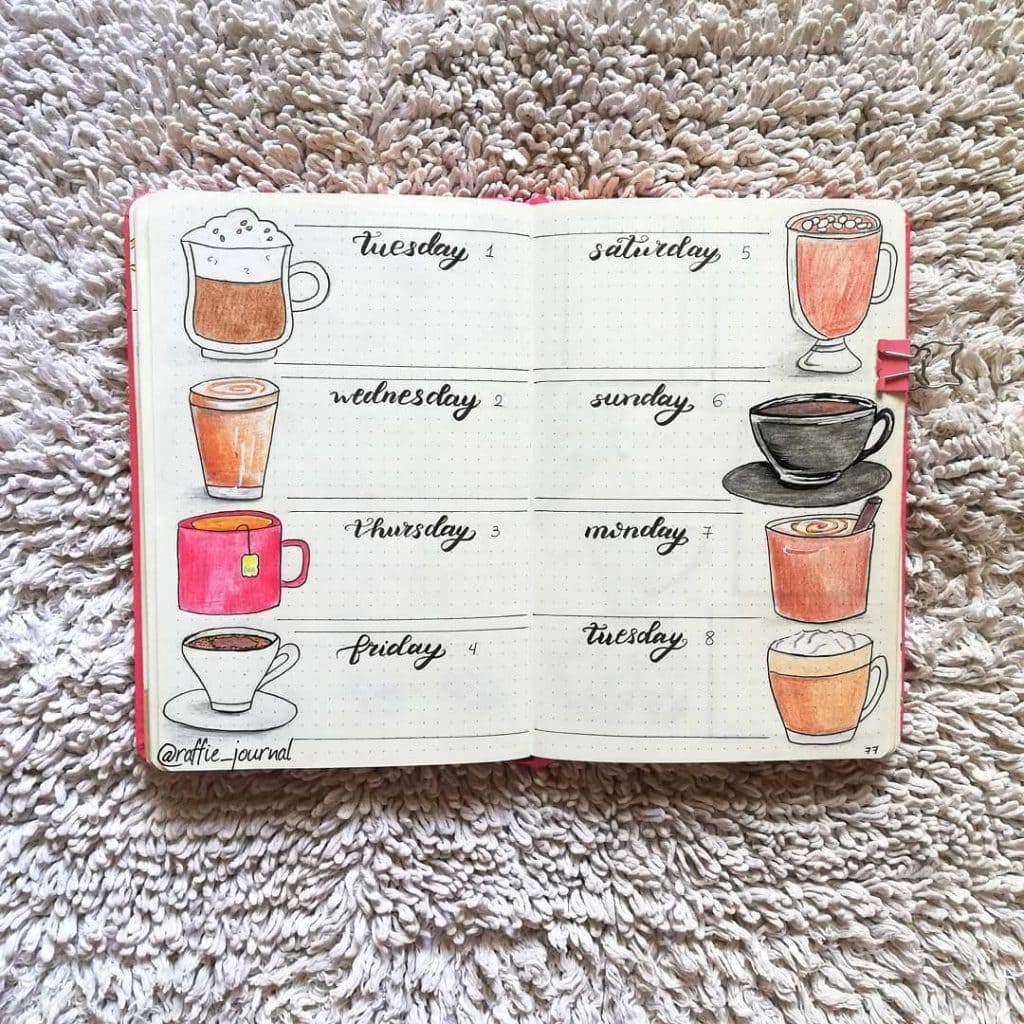 This journal screams that its owner is a coffee addict. This journal by raffie_journal is your pick if you are a coffee addict. As you can see, every day of the week has been dedicated to a different variety of coffee. If you have a lot on your plate, then this weekly spread has enough space for you to maintain your day's work.
4. Brown Theme Weekly Spread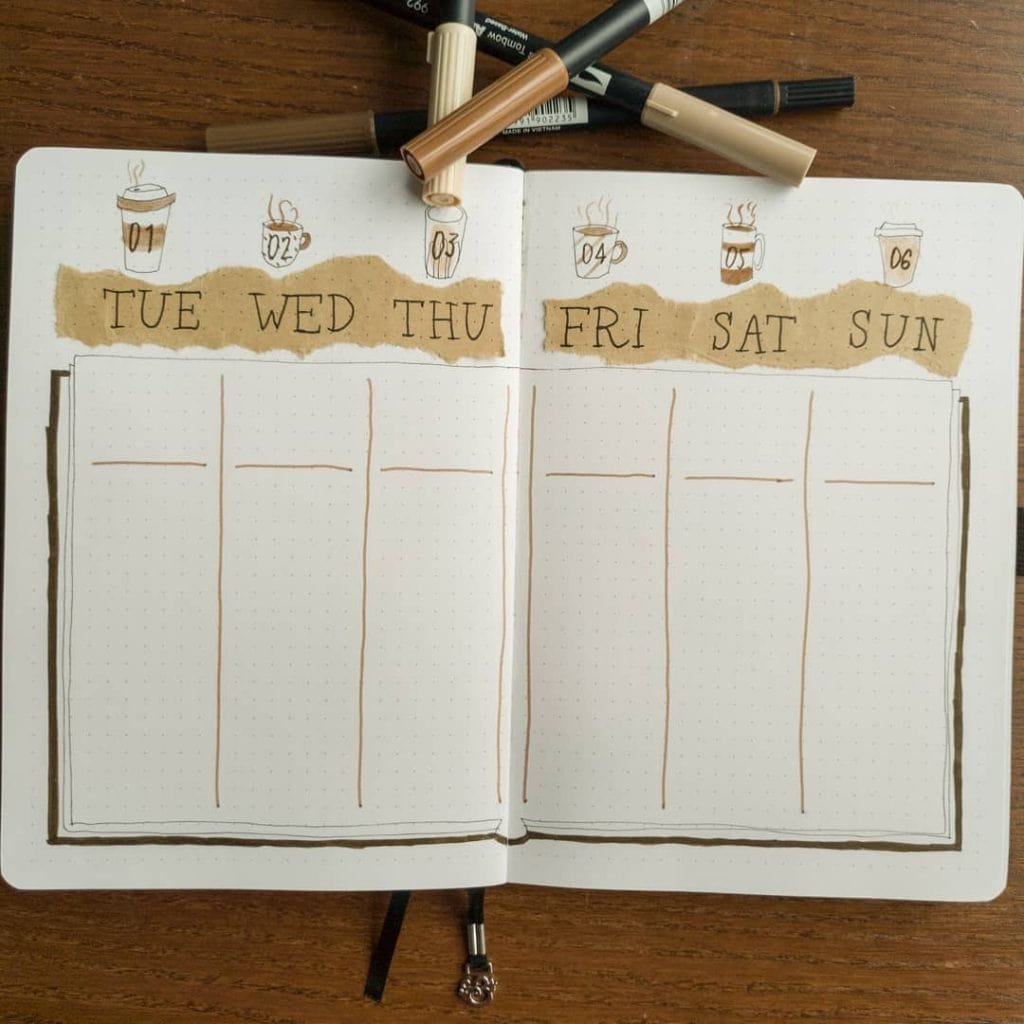 This bullet journal coffee theme will make you fall in love with simplicity. This weekly spread by bujotirza is an example of minimalism. It is simple, it is easy to recreate, and it has so much space that you can easily manage this weekly spread even if you have too much to note down. The purpose of a weekly journal is to set goals, but it can often be time-consuming. If you are looking for something which takes no time yet does the work, then this one is perfect for you.
5. Coffee Bullet Journal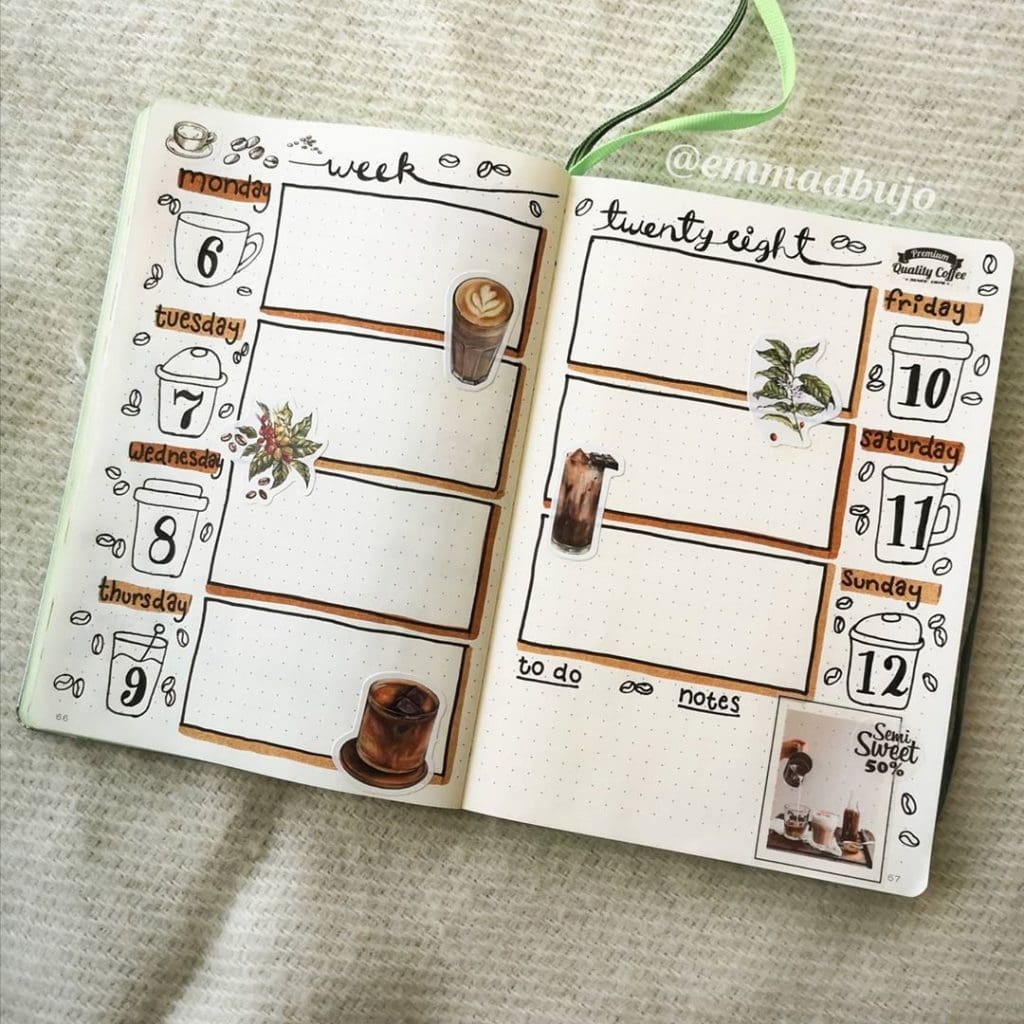 This bullet journal weekly spread by emmadbujo has it all. It has the to-do list space, it has the extra notes space, it has space dedicated each day of the week. Space in this one is something you will not have to worry about. The combination of the cute doodles and the small stickers add a little edge to this weekly spread.
6. Coffee Is Always A Good Idea Weekly Spread

This beautiful weekly spread by hannamitrovics has gone all out. At a glance, this June weekly spread might look like too much work. But look closely it is quite simple and can be recreated. If you are confident enough to make those watercolor brush strokes then there is no reason to not recreate this weekly spread.
7. Fall Weekly Spread Bullet Journal Coffee Theme Ideas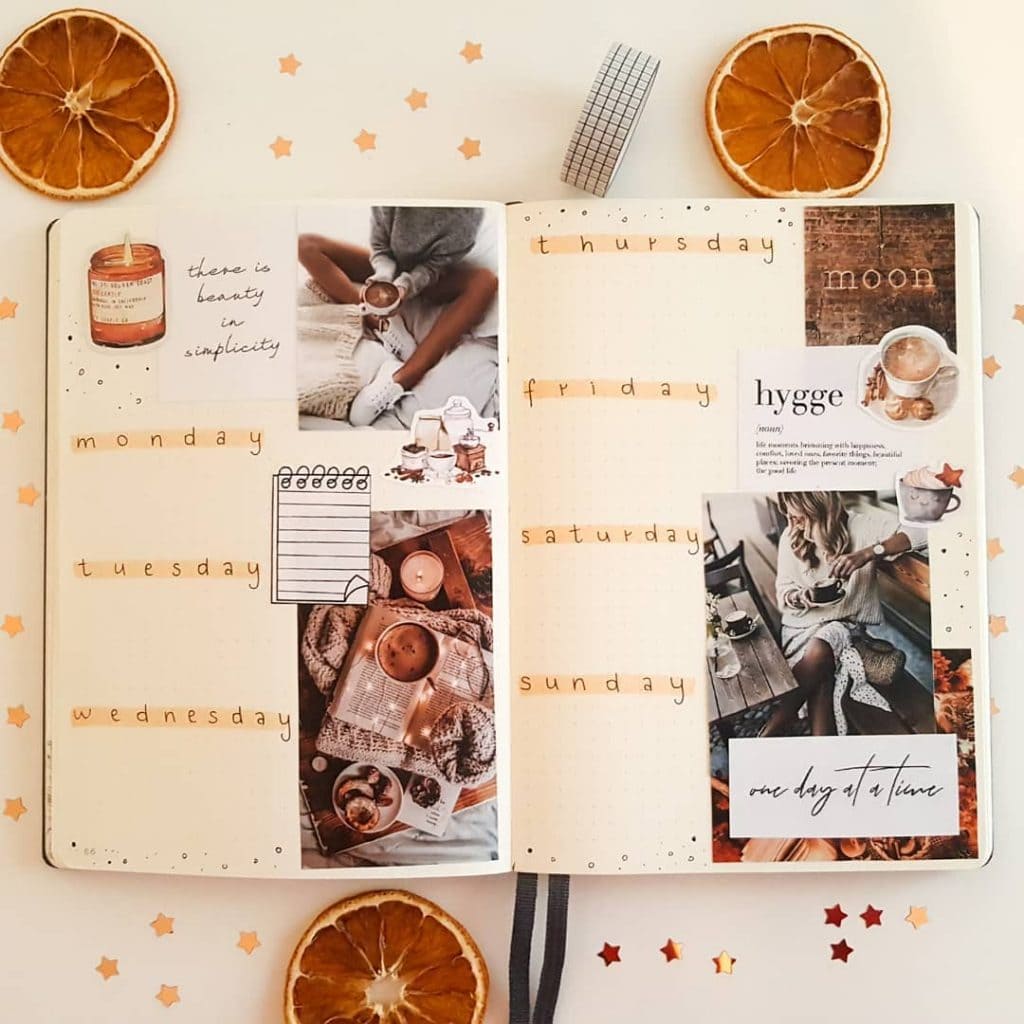 This weekly spread by sunshine_journal_ is going to chase away your doodle nightmares. If you want to stick to the basics and stay away from doodling then all you need are the bujo pages and some snaps and you are all set to maintain your own bullet journal weekly spread.
8. Autumn Tone Weekly Spread Ideas

This weekly journal spread by sunshine_journal_ is all that is brown. The brown tone reminds one of the fall seasons. If you are the winter baby, waiting for the cold winter evening with a warm cup of coffee in hand, then this will certainly impress you with its warmth.
9. May Cappuccino Bullet Journal

This weekly spread by daintybulletjournal is simple and yet fun to maintain. Even if you are new to doodling, you can easily recreate these little cute mugs of cappuccino. 
10. Marshmallow Bullet Journal Weekly Spread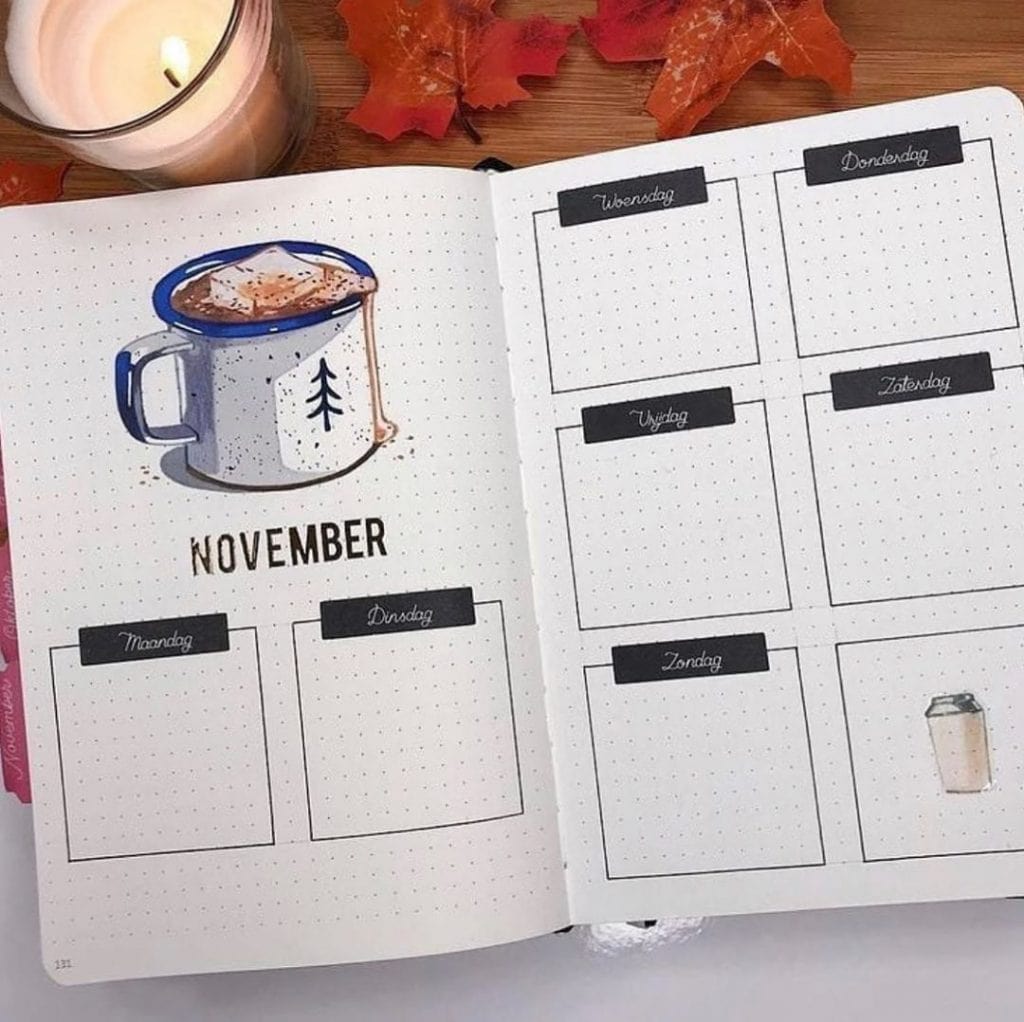 This minimalist weekly journal by bullet_journallingg is going to win your heart. It reminds of the cold winter mornings and the hot cup of cocoa with some marshmallows on the top. The ample amount of space in this weekly spread gives you the liberty to make a layout according to your preference.
Bullet Journal Coffee Theme For Your Monthly Spread

A monthly log is useful when you require a layout to map out specific events. A monthly layout also lets you track your progress. It lets you have a bird's eye view of events of the month. You can always modify the monthly log according to your needs and preference. 
Here is a curated list of bullet journal coffee theme monthly journal ideas for your bujo pages.
1. Enjoy Coffee Time Monthly Spread Idea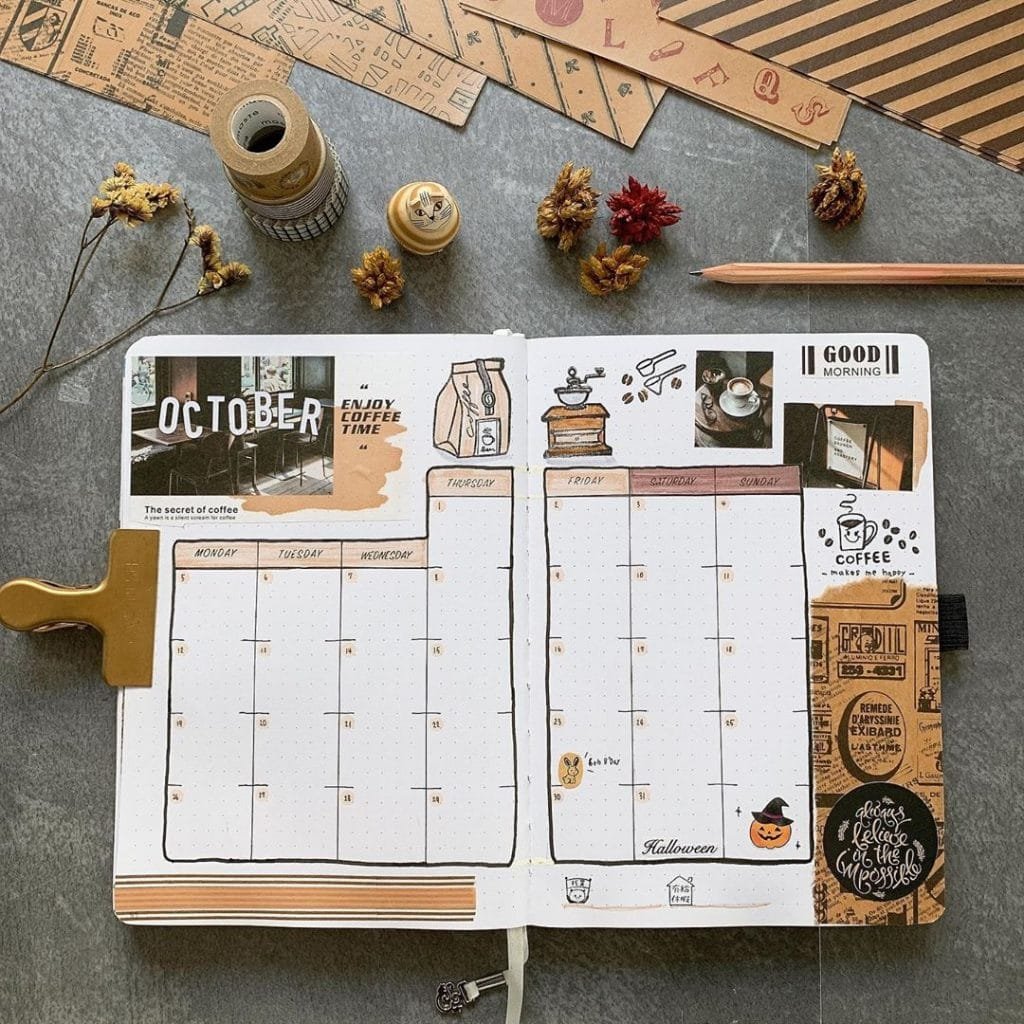 This monthly spread by 4kadiary is simple and is apt for your October monthly spread. Staying true to the coffee theme, the spread is mostly brown toned. Which not only gives the coffee vibe but is also the color of the fall. The small doodles scattered out here and there adds to the beauty of this monthly spread. The layout is quite simple and the space is adequate enough to give you an idea of what you are up for this month.
2. But First Coffee Monthly Spread

This bullet journal coffee theme monthly spread by daintybulletjournal is simple and colorful. The inclusion of the short coffee quote at the bottom is certainly the reflection of a coffee addict's soul. So if you want a monthly spread with is simple, colorful, and easy to manage, then go for this one.
3. Coffee is Sunshine Monthly Spread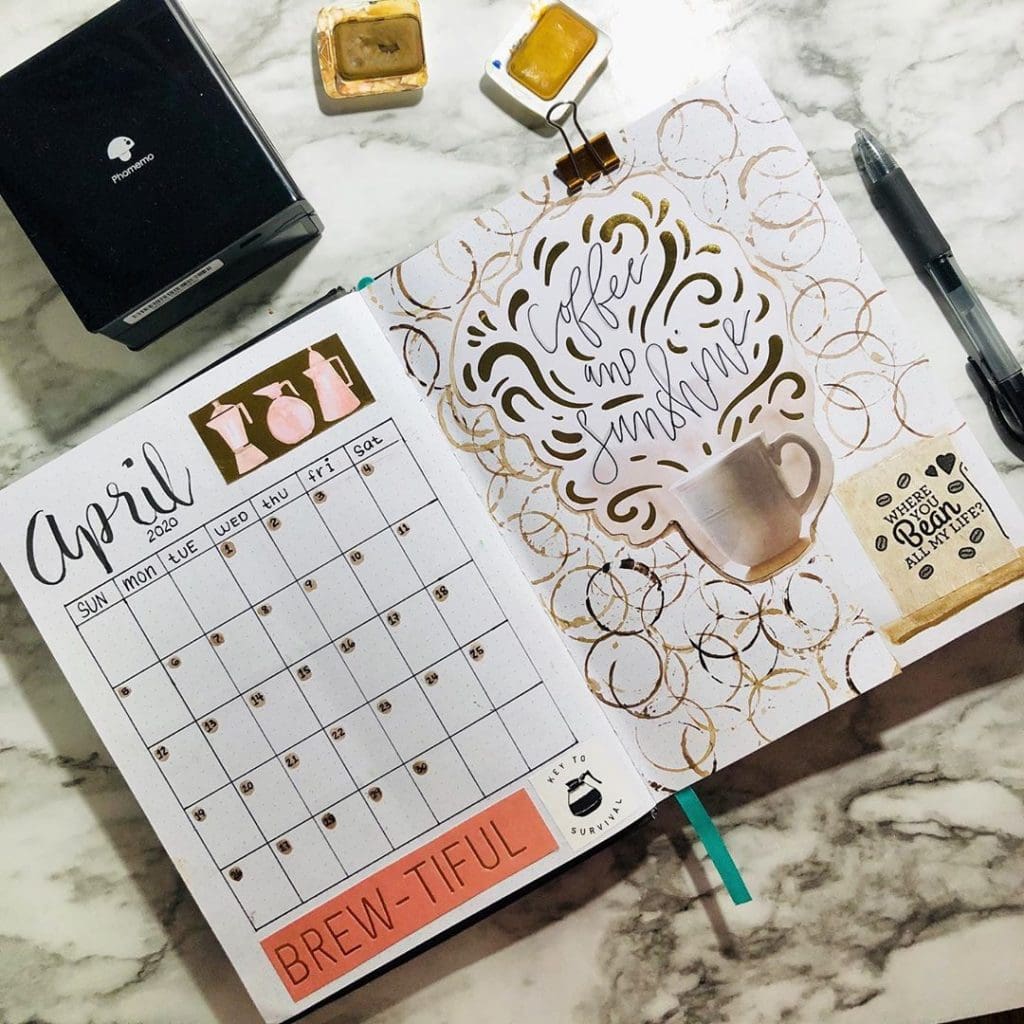 This bullet journal coffee theme monthly spread by colorsnjournals will show you that coffee obsession is very much real. And why not, who doesn't enjoy a good cup of coffee in the morning? And this monthly spreadsheet has these short and cute quotes here and there. These tiny little quotes add to the aesthetic aspect of the layout.
Coffee Doodles and Mood boards Ideas
Doodling looks intimidating to many of us. And honestly, it might look easy but it is not always so. But does that mean you have to be an artist to doodle? Absolutely no. Doodling can be learned with some help and following some steps. Here are some simple doodling ideas that will help you to learn some doodles for your bullet journal coffee theme layout. You will also find some ideas for your mood board. Mood boards are basically a way to track what you felt like doing this month or this week. It is simple a way to track how many high or low days you had in a month. It may sound unnecessary but it is in fact an excellent way to keep a record of your mental health.
1. Coffee Doodles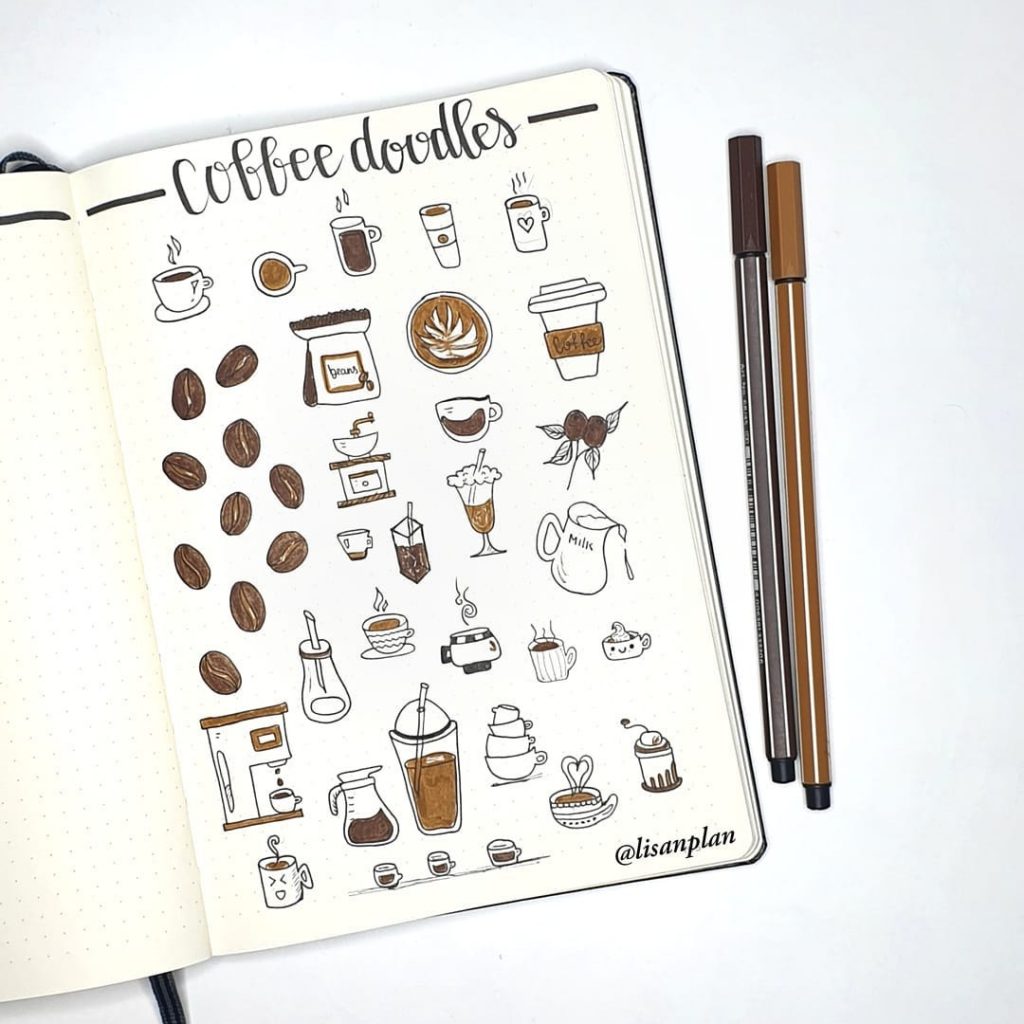 These simple coffee doodle ideas are a gift from lisanplan. These cute doodles are easy to draw. As you can see they are nothing fancy but extremely adorable. You can easily use them independently in your coffee themed bullet journal.
2. Aesthetic mood board

This mood board by bujobeauties is aesthetically so pleasing to the eyes. It is an excellent way to track what makes you happy. You can include whatever you liked doing throughout the month. From long walks to enjoying a good book. Note down all that spoke to your soul and made you happy.
3. Positive Vibes Mood Board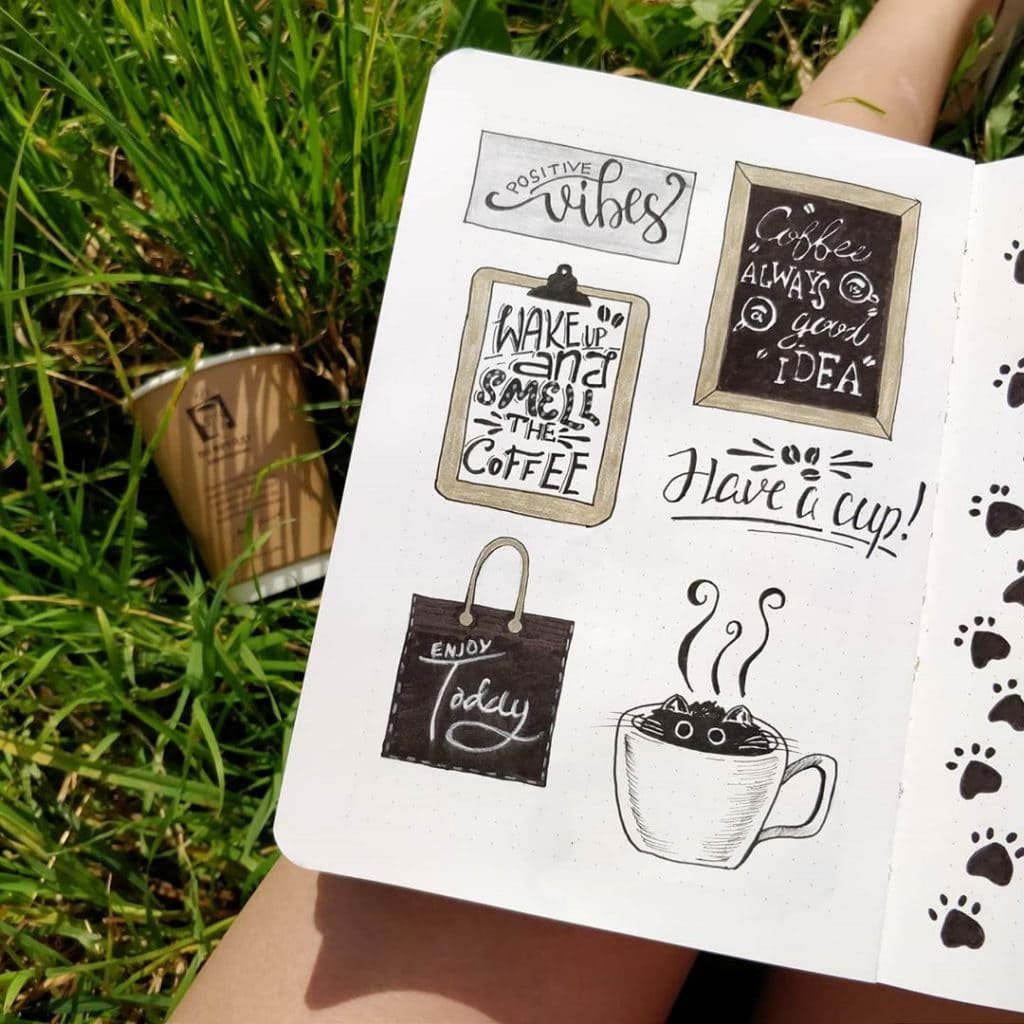 A little reminder every day can be a great source of motivation. And this mood board by viikentiy_art does exactly that. The small yet inspiring quotes on this layout will keep that positive vibe going and will keep you motivated every day. And what is better than some good old self-motivation?
4. Coffee Edition Doodle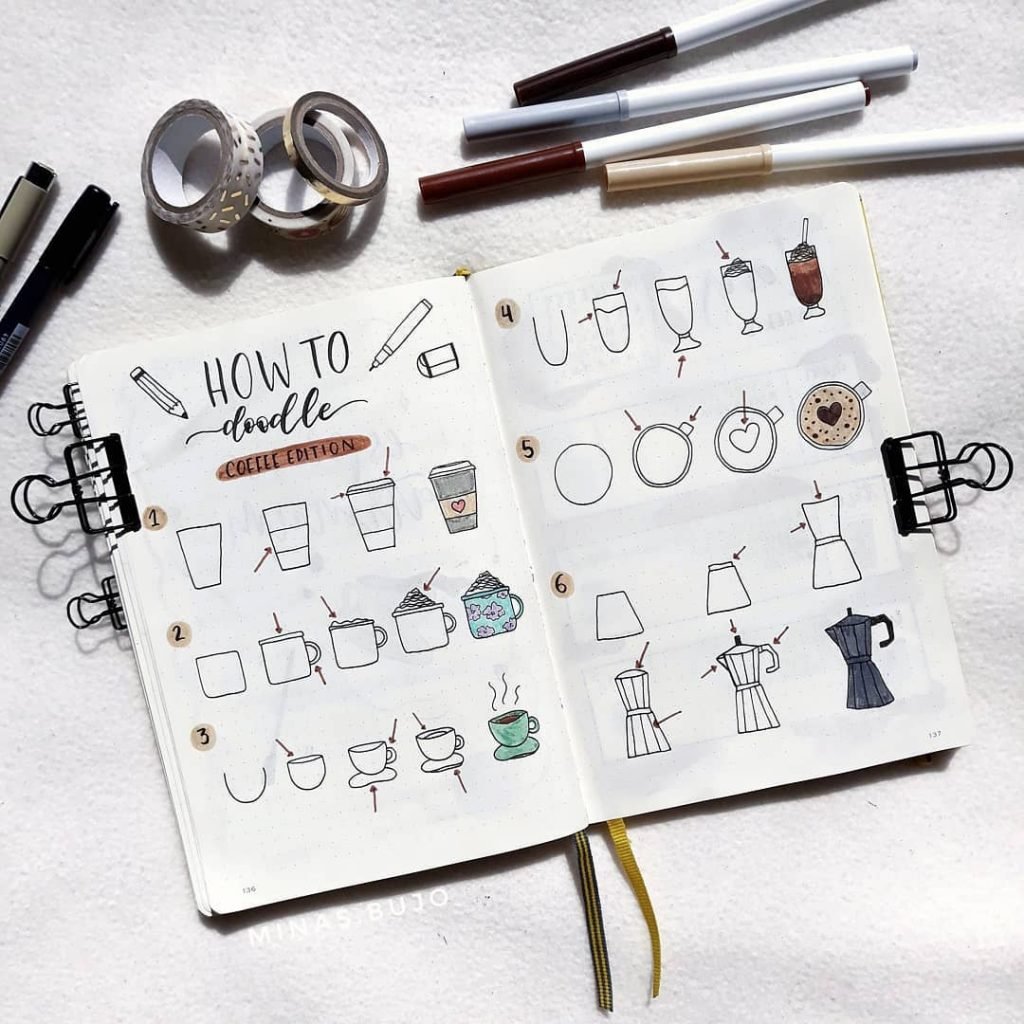 This small and minimal doodle will get you a long way when you personalize your bujo pages. Minas.bujo has used some simple yet elaborate steps to doodle coffee-inspired pieces. These will get you started for your bullet journal coffee theme layouts.
Coffee Themed Mood trackers
Mood trackers are something that will grow on you. Initially, you may not find it that useful and fail to understand its efficacy. But a month later when you see the mood tracker you will realize how you can utilize it to keep a track of your mental health.
1. Color the Foam Leaves

This mood tracker by svs.sketches is simple and fun. You can color-code your moods. And then color the leaves according to the mood on a particular day.
2. Happy and Sad Days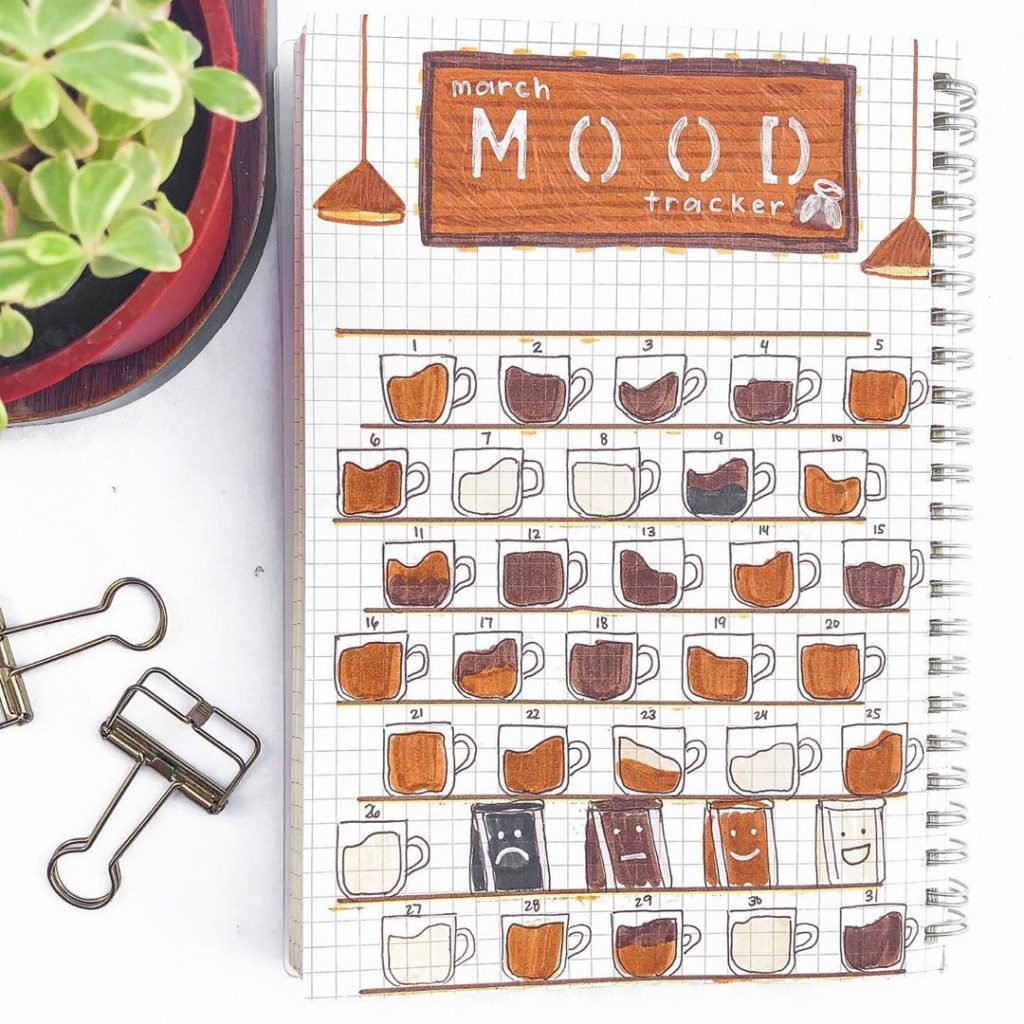 This mood tracker by wonderjournals is my favorite on the list. Because in the one you can also track a day when you were both sad and later on happy. All you have to do is color the mugs accordingly.
3. Empty cups and feelings
This mood tracker by minas.bujo is as creative as it gets. This mood tracker is cute and can set your mood right. Color the pattern on the cup with the color-codes.
Habit Tracker
Habit trackers are a great way to make or break a habit. A healthy lifestyle and good life choices are a must for living a happy life. Whether it is a skincare routine or your morning walks, racking a habit is good for maintaining a routine.
1. September Habit Tracker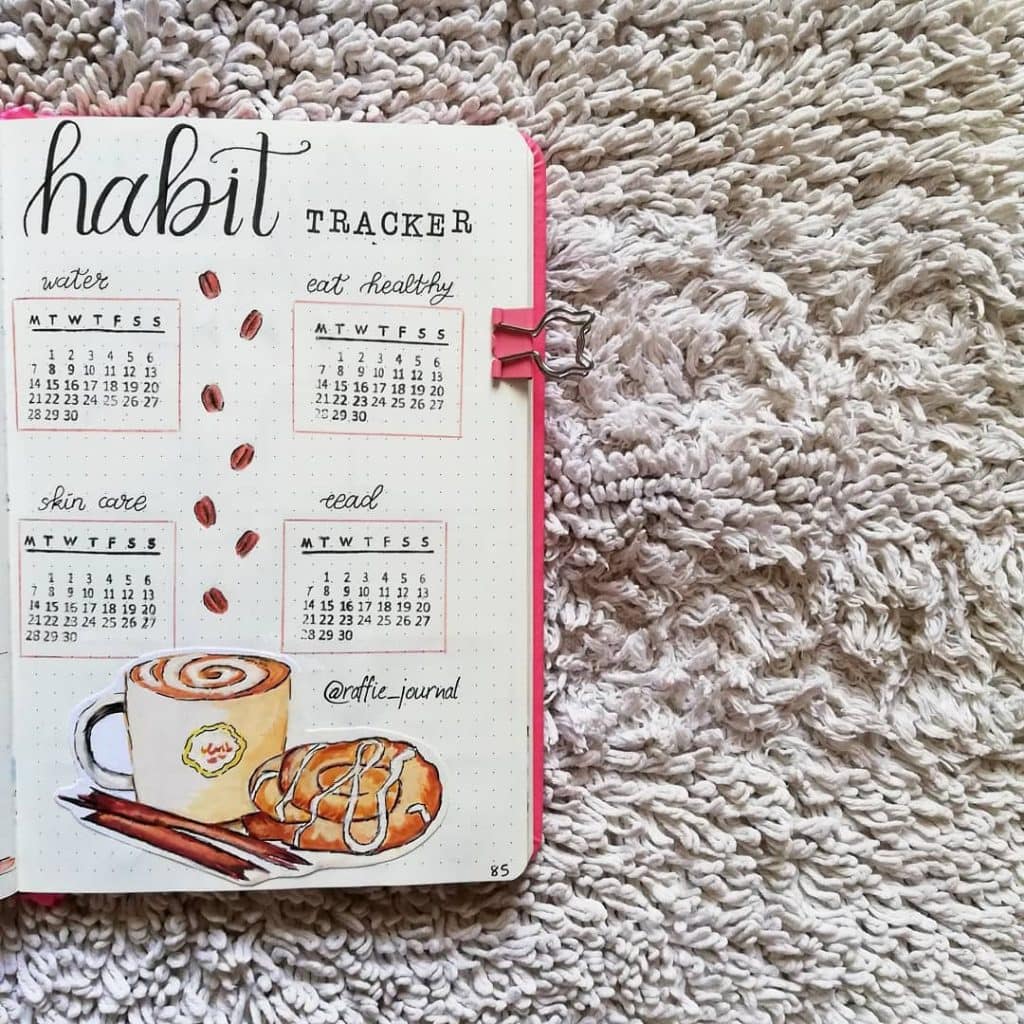 This habit tracker by raffie_journal is simple and neat. You can use it to track your water drinking habits, your skincare regime, your fitness routine, and so on. It is efficient in tracking your daily habits besides your work routine.
2. Mood and Habit Tracker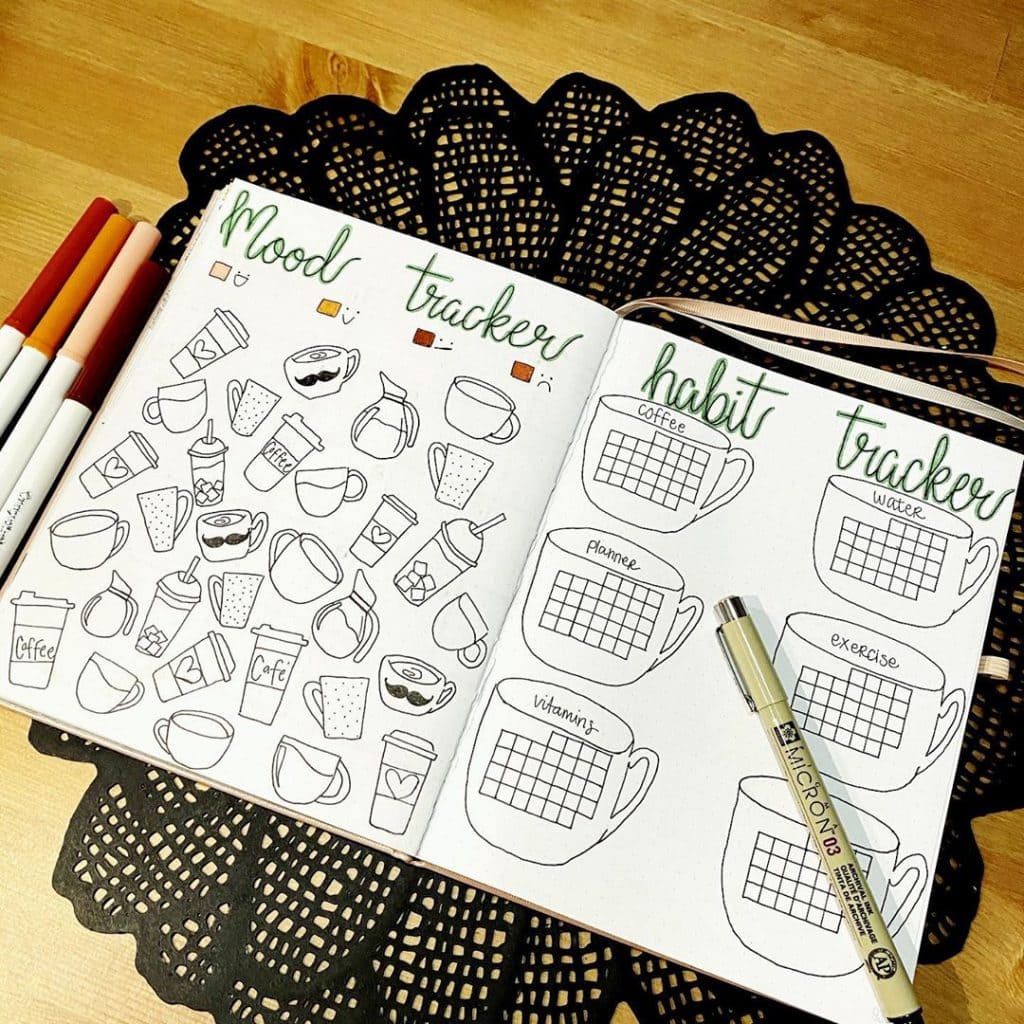 This habit tracker by dees_bullet_journal is versatile. You can improvise according to your habits. But you can definitely track your habits with this one. From the number of glasses of water you had to if you had taken your vitamins, you can track it all with the help of this tracker.
Coffee Quote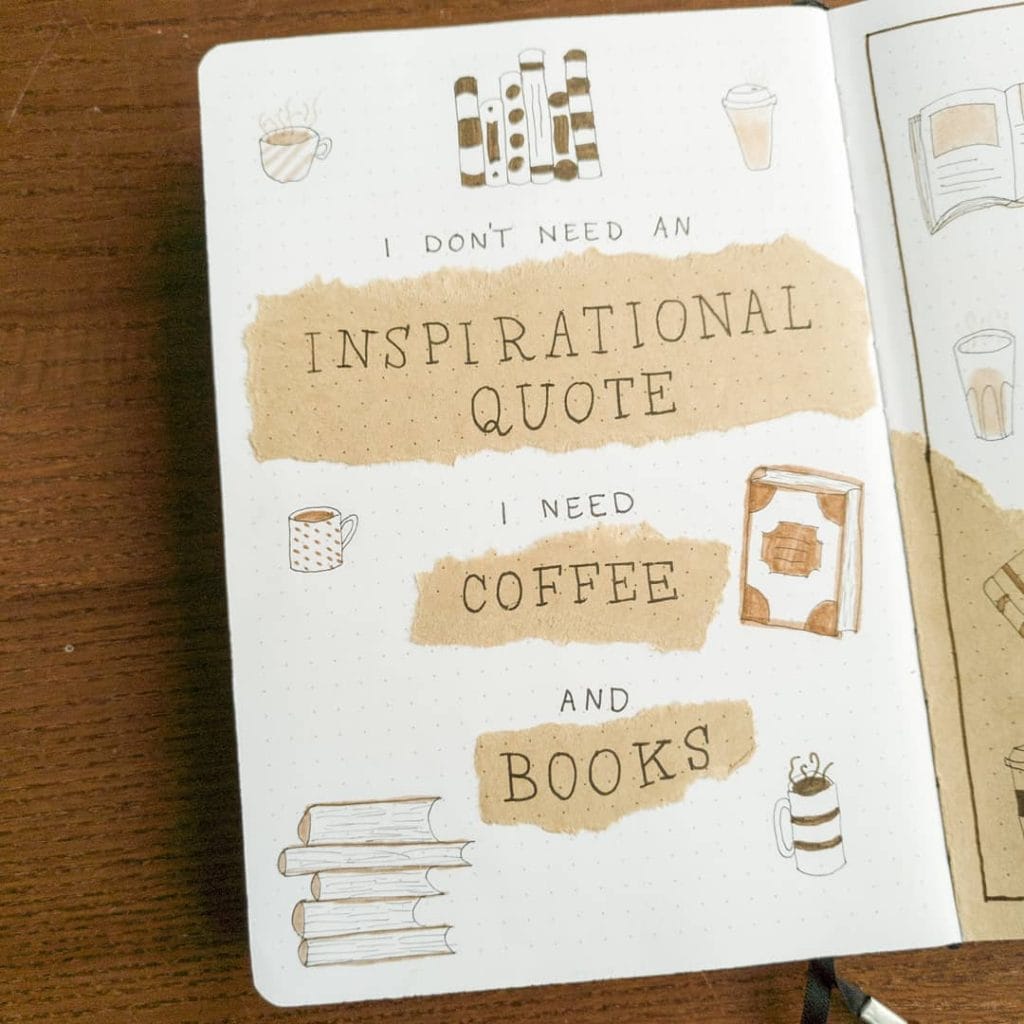 Quotes are an excellent way to start your day on a positive note or even end your day feeling motivated after a tiring day. Quotes are the easiest way to get those hopes a new boost every day. And what else do you need in your bullet journal to keep you motivated and focused? 
This coffee quote by bujotirza will get you moving in the morning. You will feel determined to pick up the coffee and get to work or to your books. The brilliance of quotes is that we all have one that we resonate with strongly.
Hope you have found your favorite from this curated list of bullet journal coffee theme ideas. You can also check out some more bullet journal ideas here on 25+ Bullet Journal Reading List Ideas For Book Lovers. 
Do not forget to let us know which one of our coffee themed bullet journal idea you liked the most in the comment section.
Also if you like this article then you can click on the image below and save it on your Pinterest board. Happy bullet journaling! Enjoy your coffee!