COLLEGE – The land of late-night study sessions, questionable cafeteria food, and the infamous dorm room. Whether you're a freshman eager to start your school year or a seasoned senior ready to bid farewell to your tiny abode, one thing's for sure – freshman dorm rooms are your home away from home. 
But fear not, my fellow co-eds! You can transform your cramped quarters into a cozy oasis with a bit of creativity and a dash of humor. So put down that ramen noodle cup, grab some tape and twinkle lights, and get ready to kick off your campus life in style with these 40 fantastic dorm room ideas. 
Related articles – 
1. Add Plenty Of Storage And A Study Desk
If you're tired of tripping over textbooks and digging through piles of clothes just to find a clean pair of socks, it's time to add some storage to your life. And let's not forget the ultimate college staple – the study desk. Because let's face it, trying to balance a laptop on your lap while perched on your bed is not a recipe for academic success. 
2. Set The Vibe With A Collage Wall
If you're tired of staring at your daughter's dorm blank, boring walls, it's time to take matters into your own hands. And what is the better way to do that than with a killer collage wall? Not only will it give your room a pop of personality, but it's also the perfect way to showcase your creativity and artistic skills. 
3. Go Boho Chic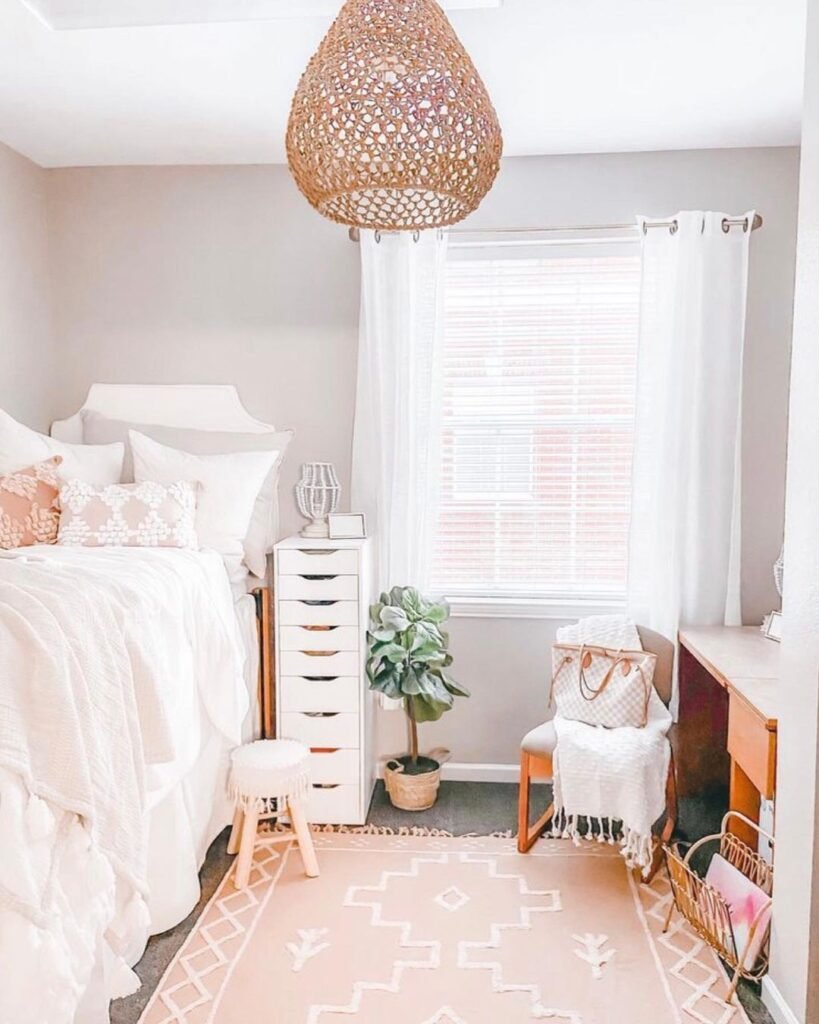 Image and tutorial by Jenny Reimold
Not only is bohemian super trendy, but it's also a great way to transform your dorm room into a cozy and eclectic sanctuary. Think of mismatched patterns, earthy textures, desk hutch, and lots of colorful accents. And don't forget to incorporate plants – they'll not only freshen up the air but also give you a reason to call yourself a "plant mom" on Instagram. 
4. Include A Day Bed
If you're tired of sacrificing precious space for a boring old twin bed, I have a game-changing dorm room decor tip for you – including a day bed! Not only will the bed provide a comfy spot for your friends to crash after a long night of studying (or partying, let's be honest), but it also doubles as a stylish seating area for daytime hangouts. 
5. Bunk Up
Image and tutorial by Darling Magazine
Two heads are better than one, and two beds are better than one too! That's right, when it comes to dorm room decor, bunking up is the way to go.
6. Keep It Practical
Image and tutorial by Dimples And Tangles
While it may get tempting to fill your tiny space with all the cute and quirky decor you can get your hands on, let's not forget the importance of practicality.
7. Pick Your Top Pieces
Sure, you could cram every inch of your room with knick-knacks and throw pillows, but let's be honest – you're not running a home goods store. So instead, focus on picking key pieces that speak to your style.
8. Add String Lights To Make The Dorm Room Warm And Cozy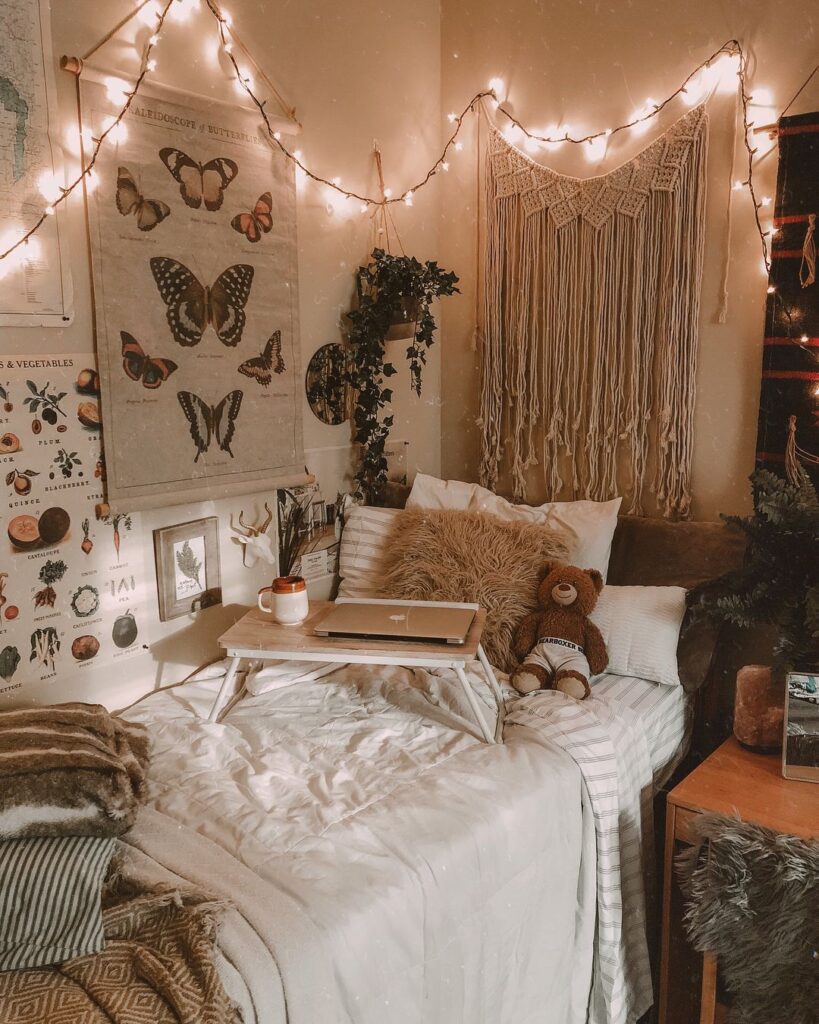 Want to take your humble abode from "blah" to "ahh-mazing"? Look no further than string lights! Not only do these bad boys add a warm and cozy ambiance, but they're also perfect for late-night study sessions when you don't want to wake up your snoozing roommate. 
9. Think Multifunctional – Compact And Mobile
Thinking multifunctional is the way to go when it comes to dorm room decor. You need furniture that can do double duty. And remember the importance of mobility – everything should be compact and easy to move around.
10. Create A Reading Nook
Do you yearn for a cozy nook to escape into the world of literature? Look no further than creating a reading nook in your dorm room! Not only will it give you a break from your roomie's snoring, but it'll also give you an excuse to buy even more throw pillows.
11. Keep Bedding Simple
Do we really have the time, energy, or money to create a masterpiece out of our bed linens? So here's a hot tip for ya – keep it simple, folks. Opt for a basic comforter in a neutral color, throw on a few accent pillows, and call it a day. 
12. Loft Your Bed For Extra Space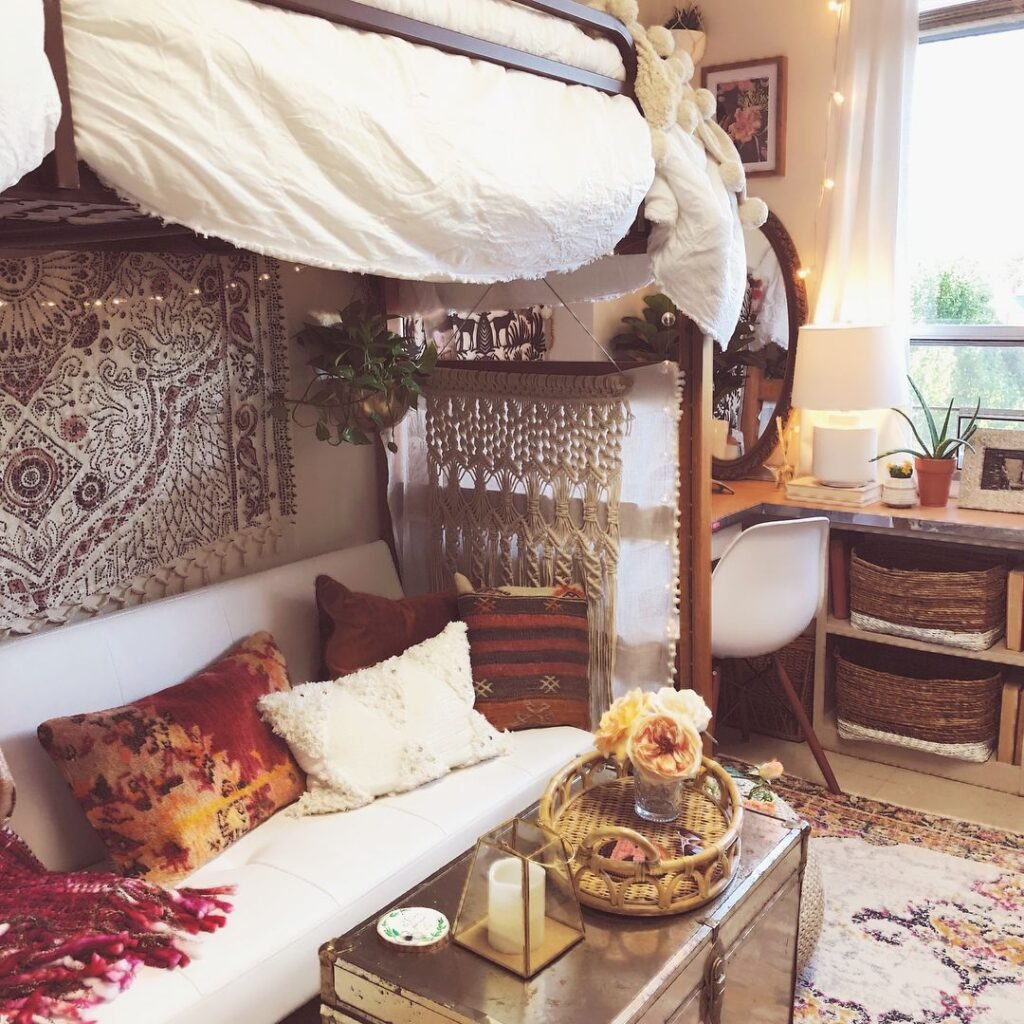 Not only does a loft bed create a cool, urban vibe, but it also frees up valuable floor space for all your other dorm essentials – like your mini fridge, a mini living space, and a pile of textbooks you swear you'll get around to reading.
13. Add In A Hammock
Image and tutorial by Savvy College Girl
Forget about your roommate's awkward sleep-talking and snoring – with a hammock tucked neatly beneath your loft bed; you'll be snoozing like a baby in no time. Plus, it adds a touch of bohemian chic to your room, making it the perfect spot for reading or pretending you're on a tropical vacation.
14. Have A Black And White Moment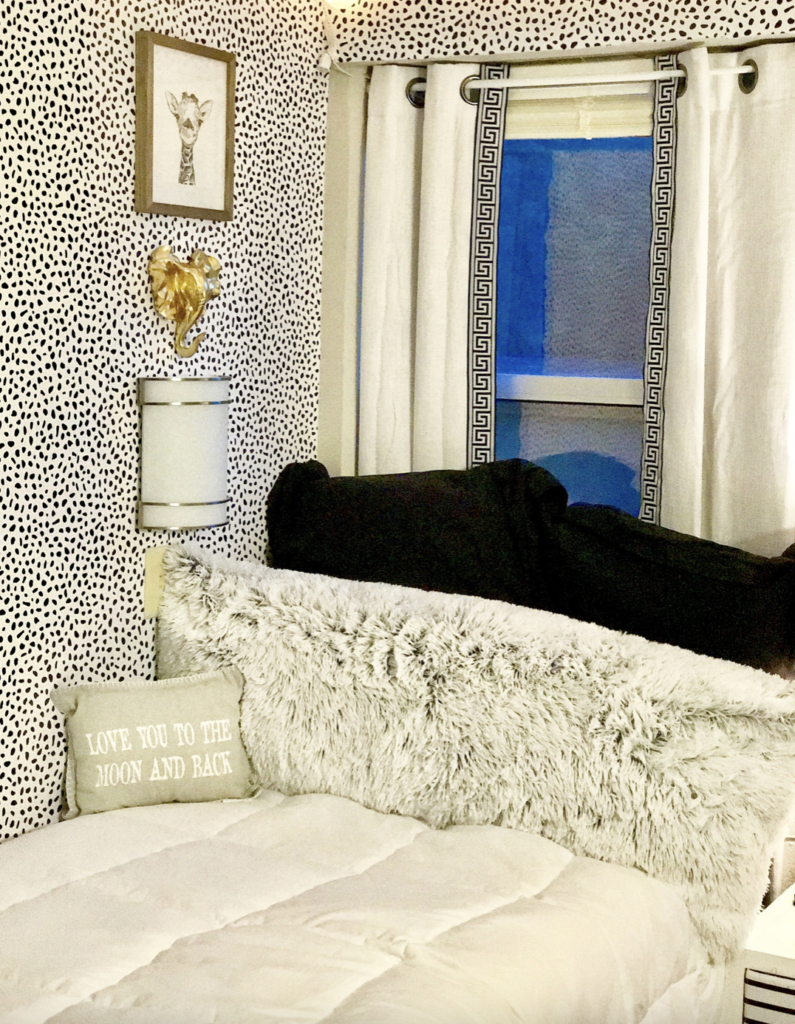 Image and tutorial by Teenvogue
Do you crave a little sophistication in your life but can't afford a trip to Paris? Fear not, because I have the solution for you: have a black-and-white moment! Ditch the neon posters and opt for a monochromatic palette that screams, "I'm classy but also still a broke college student."
15. Display Your Favourite Memories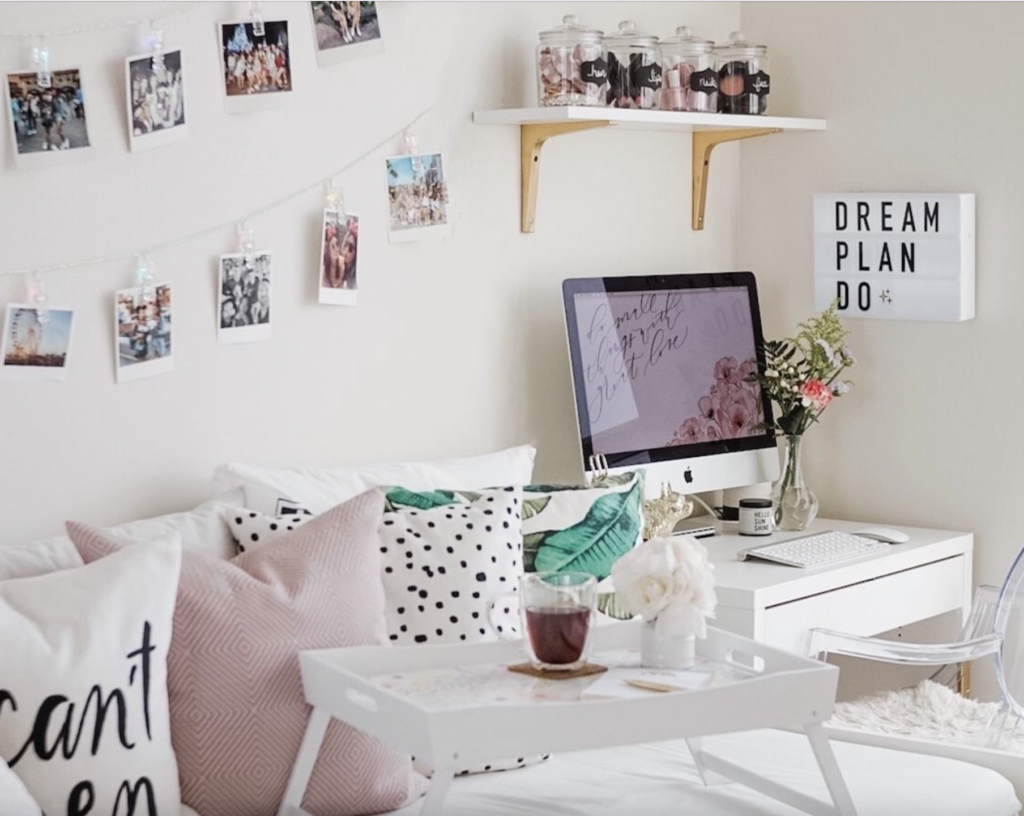 Image and tutorial by Kitchen Stuff Plus
Instead of staring at those bland paint chips all day, why not display your favorite memories? Like that one time you made it on the Jumbotron at the game or the hilarious photo booth snaps from your best friend's wedding. 
16. Get Organized Stylishly – Easy DIY Dorm Room Decor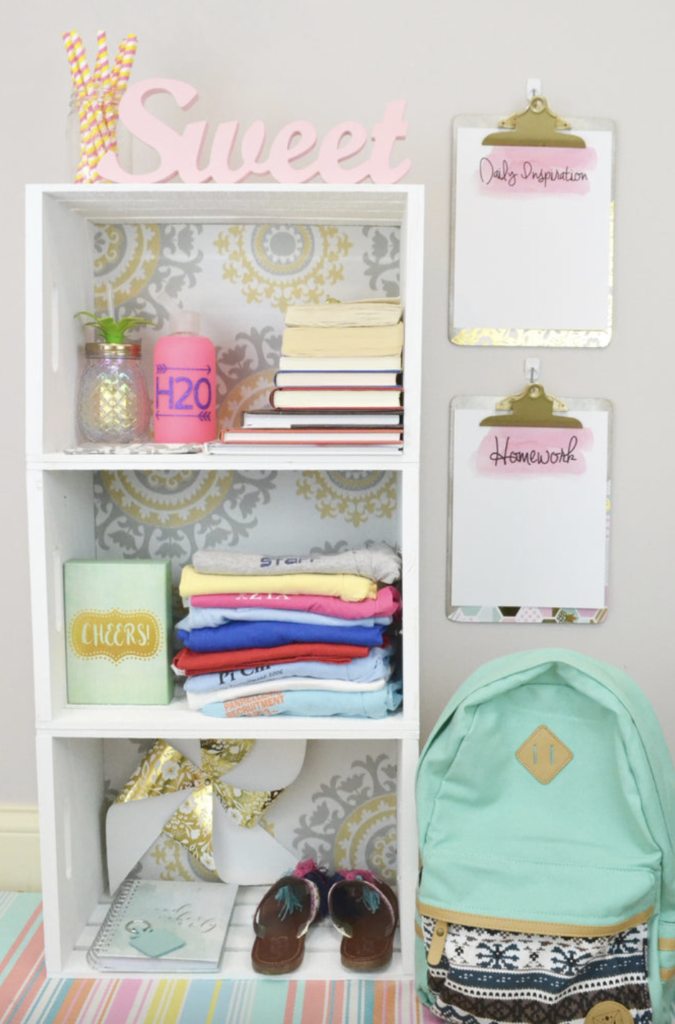 Image and tutorial by Craft Box Girls
No need to sacrifice fashion for function – you can have both! From cute storage bins to trendy desk organizers, endless options exist to keep your belongings in check while still making your space look Insta-worthy. This tutorial will show how to make one yourself from pallet boxes. So why late? Check it out and save it for your next DIY project.
17. Set Up A Serene Sleep Space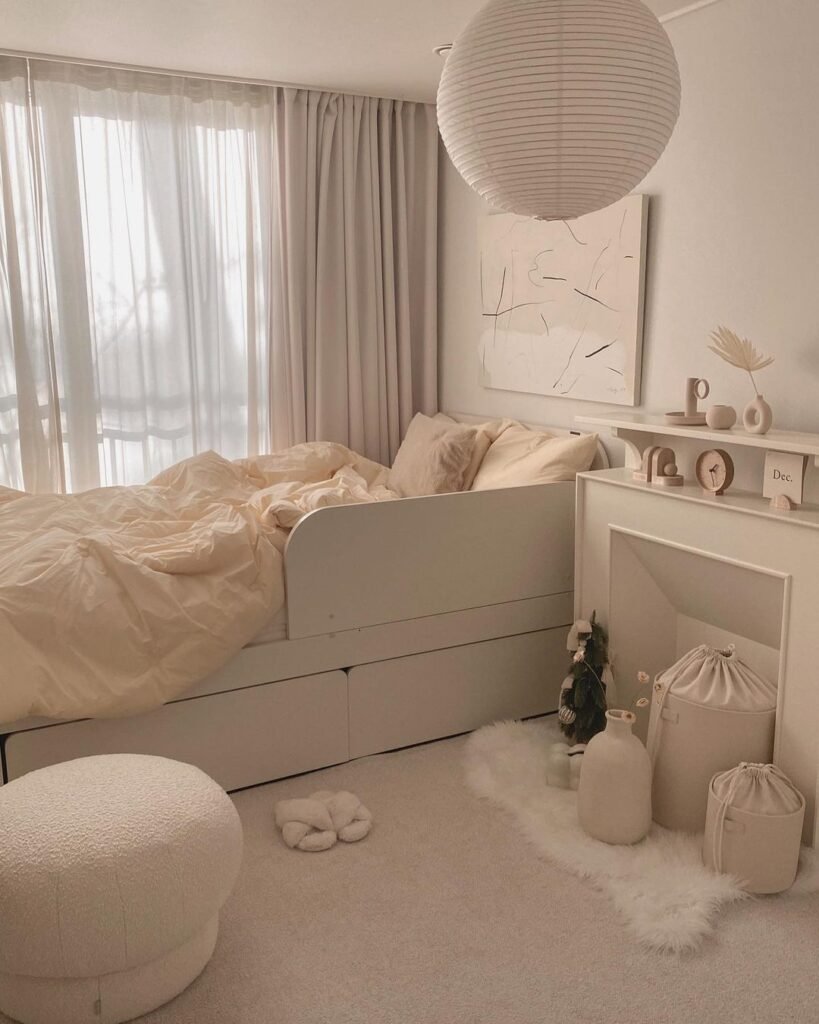 Sure, the sound of your roommate's snoring may be enough to keep you up all night, but with a few dorm room decor tips, you can create a serene sleep space that'll have you drifting off in no time, like adding cozy blankets, using calming scents, investing in a noise-canceling machine, etc.
18. DIY Dorm Room Storage Unit
Image and tutorial by Simplified Building
Say goodbye to cluttered desks and overflowing closets and hello to a space that would make even Martha Stewart jealous. This tutorial will walk you through an ultimate storage unit idea that can be made effortlessly. So don't wait up and start building one already!
19. Personalize Your Wall With Your Art Work
Image and tutorial by College Fashionsta
Whether you're a master painter or just a fan of the occasional doodle, showing off your creations is a surefire way to add some personality to your dorm. Plus, who needs a dull Monet print when you can have a unique masterpiece like yours?
20. Add In A Curtain wall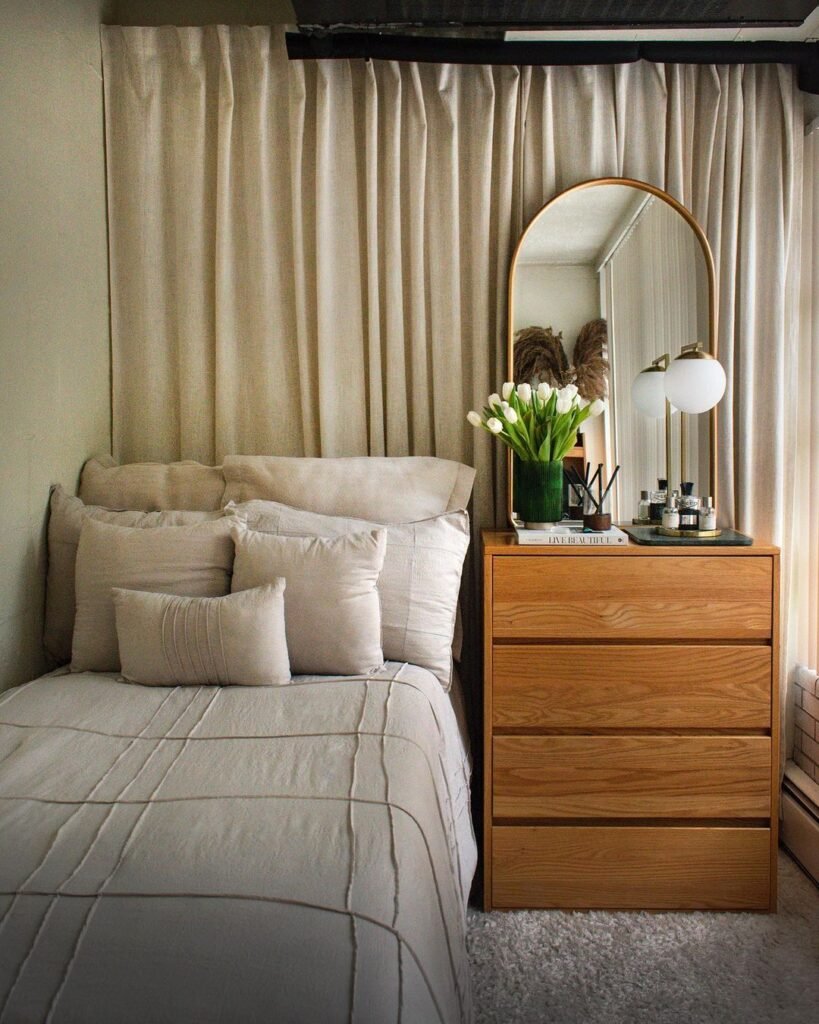 Say goodbye to bland, boring walls and hello to a chic curtain wall. Not only will it add a pop of color and texture to your space, but it also doubles as a makeshift room divider.
21. Stack Extra Things under The Bed
Those plastic bins filled with who-knows-what and that pile of shoes that seem to grow by the day can all find a cozy home underneath your bed. It's like a secret storage area, except everyone knows about it.
22. Add Plenty Of Plants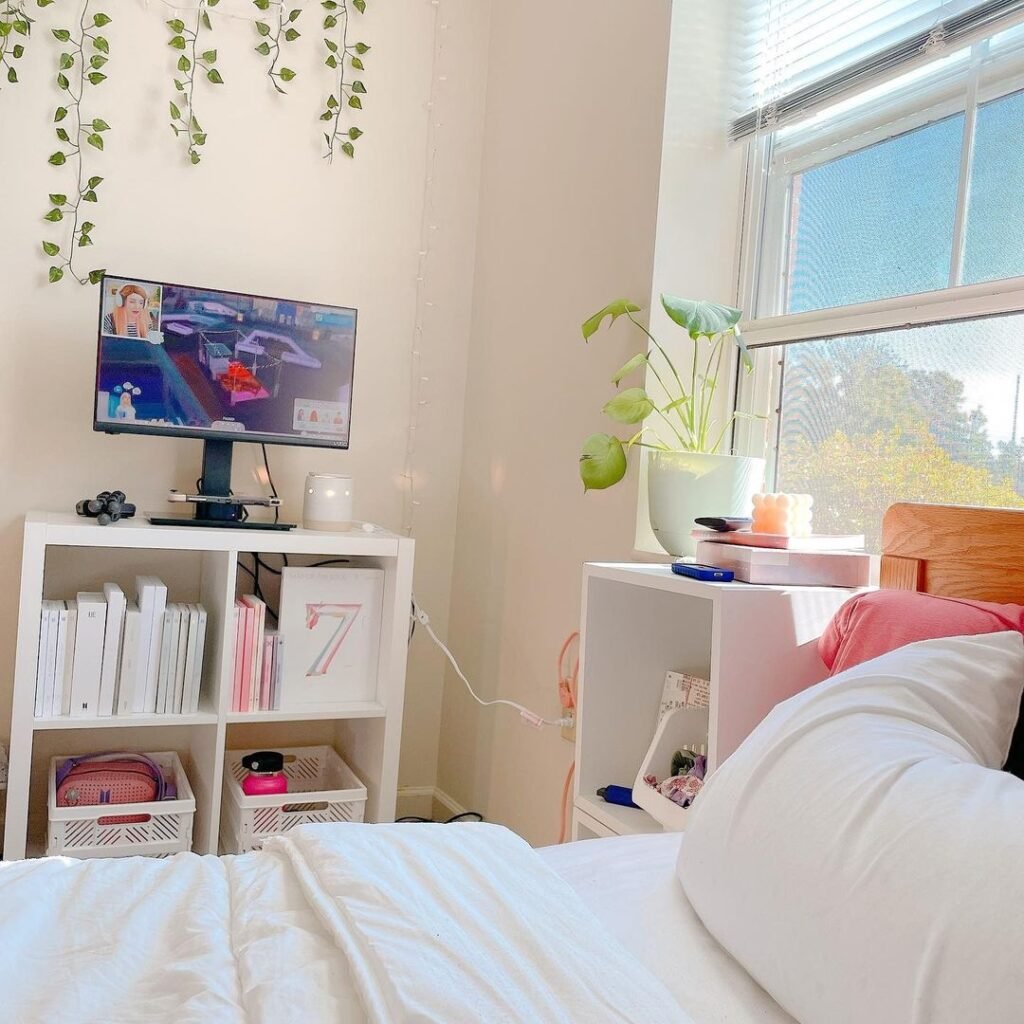 What's the easiest way to make your dorm room feel like a jungle oasis instead of a sterile prison cell? Plants! Not only do they add a pop of color and life to your space, but they also give you an excuse to pretend you have a green thumb.
23. Pay Attention To The Little Details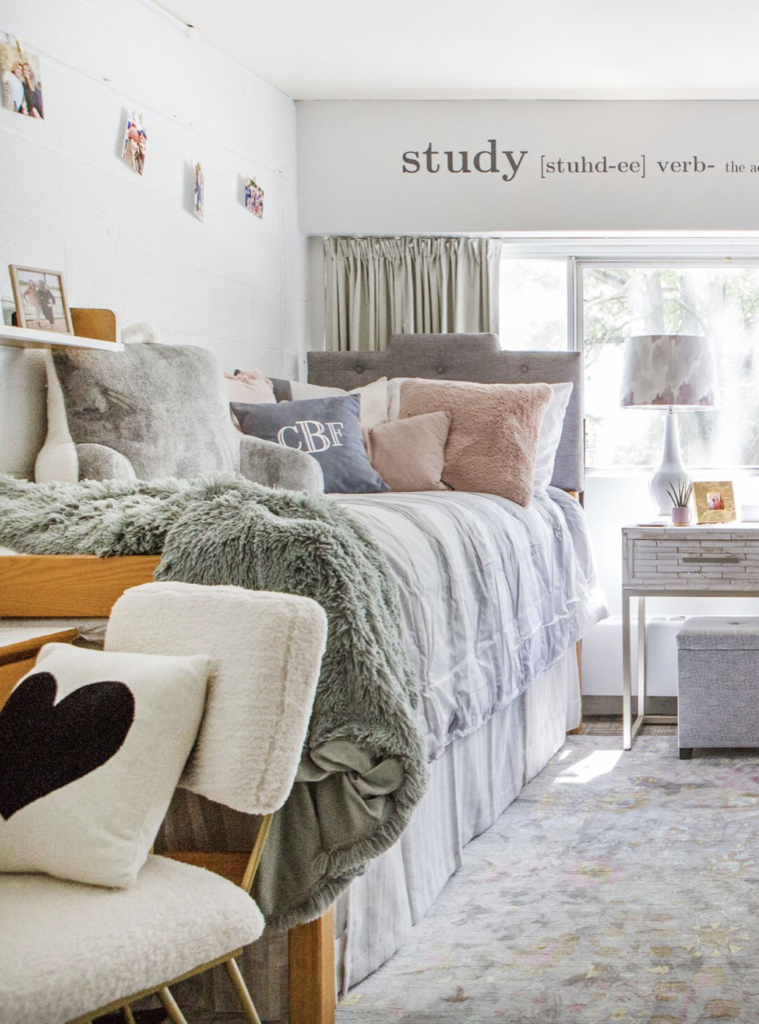 Image and tutorial by Memehill
Sure, you could slap some posters on the wall and call it a day, but where's the fun? Instead, focus on the small details that make your room feel like a home. Add fairy lights for a cozy vibe, throw colorful pillows on your bed for a pop of personality, and stock up on funky desk accessories to show off your style. 
24. Add Colourful Throw Pillows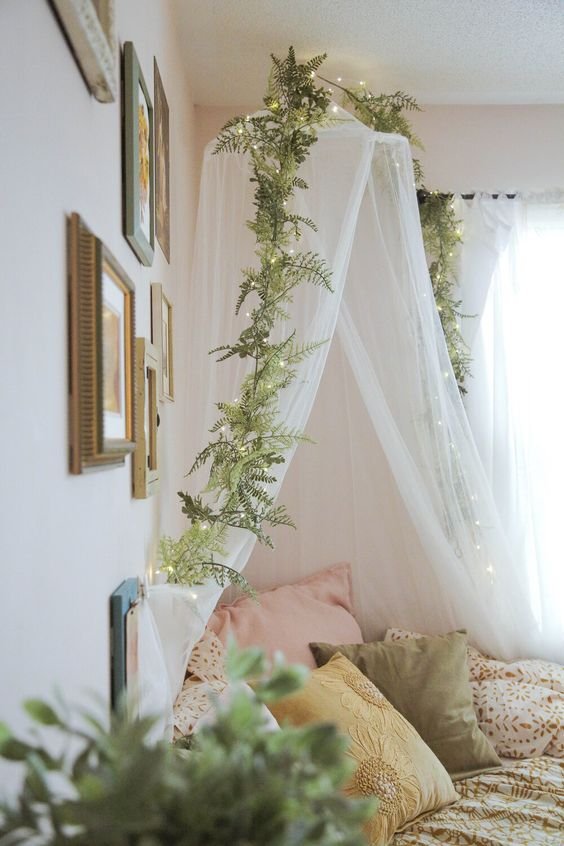 Image and tutorial by The Sorry Girls
Adding Throw pillows is like giving your bed and seating area a facelift without breaking the bank (or your back). Plus, with so many funky designs and patterns, you will indeed find a pillow that matches your unique style.
25. Color Co-ordinate The Room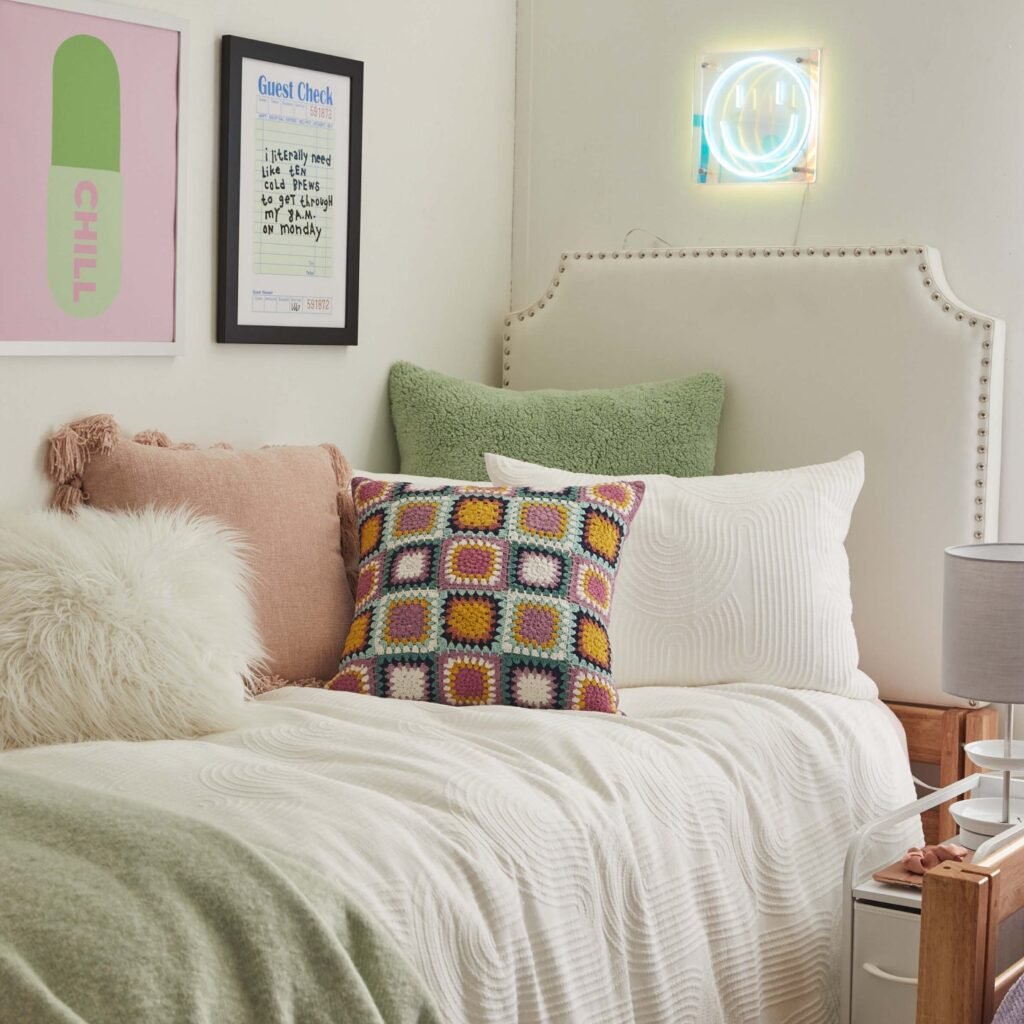 If you want to avoid a clash of colors in your cramped quarters, it's time to channel your inner interior designer and color-coordinate that room. Sure, it may seem daunting at first, but fear not! With a few simple tricks, you can turn your bland dorm into a rainbow paradise.
26. Add Some Texture
Image and tutorial by Emily Henderson
It's time to take your room from boring to bold with some texture. I'm talking faux fur, woven tapestries, or rustic wood paneling. Not only will it add some serious style to your space, but it'll also distract from any unsightly marks or dents that have accumulated throughout the years.
27. DIY Dorm Room Headboard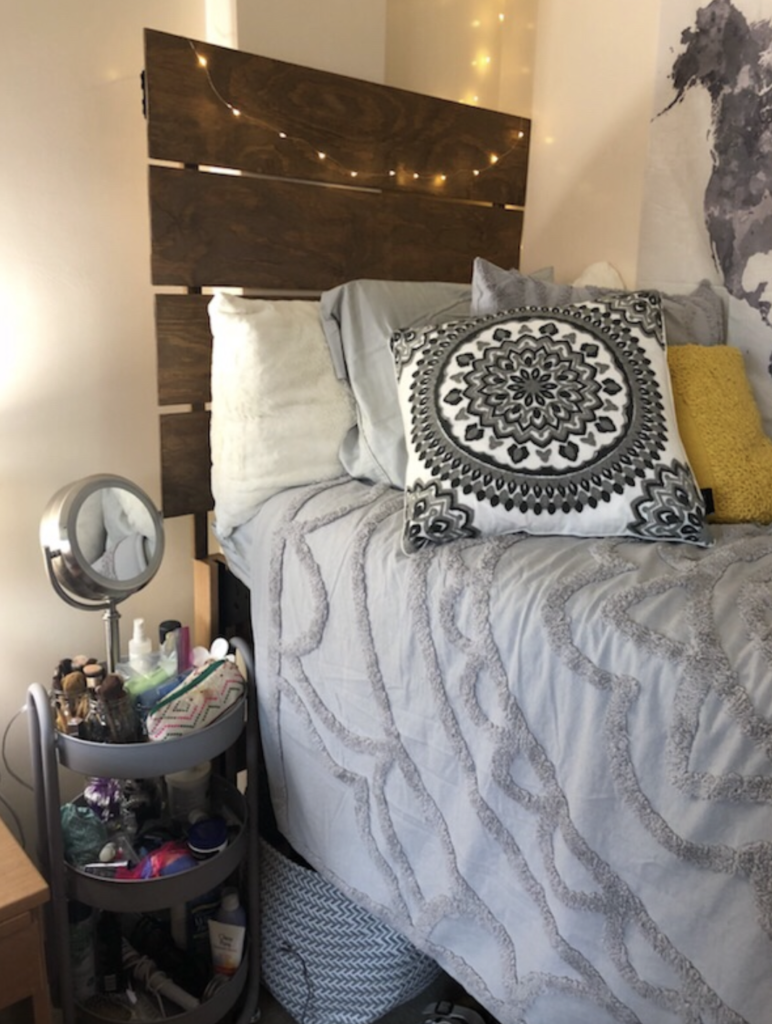 Image and tutorial by Laurel Dane Designs
You can turn your plain old dorm bed into a luxurious sleeping oasis with just a few supplies and some elbow grease. So say goodbye to boring nights and hello to sweet dreams with this simple and stylish DIY dorm room headboard.
28. DIY Dorm Room Loft Bed
Image and tutorial by Home Jelly
Do you yearn for a study but don't have much space? Fear not, my friend! With this DIY loft bed, not only will you gain ample storage space underneath your new throne, but you'll also impress your roommates with your newfound carpentry skills. 
29. Make Use Of The Walls
Image and tutorial by the Sorry Girls
Don't let your posters and tapestries hog all the wall space – get creative and use every inch! Hang some string lights, create a DIY photo collage, or even turn your wall into a chalkboard for impromptu doodling sessions.
30. Add A Tapestry
Image and tutorial by College Gloss
Adding a colorful and eye-catching tapestry to your dorm room decor lets you transform your space from drab to fab in minutes. Plus, it's a great conversation starter for those awkward first days of college.
31. Curate A Gallery Wall
Image and tutorial by Bored panda
It's time to channel your inner art curator and create a masterpiece on your dorm room wall. You can turn your blank canvas into a chic and personalized statement piece with a mishmash of frames, prints, and posters.
32. Add A Soothing Art Piece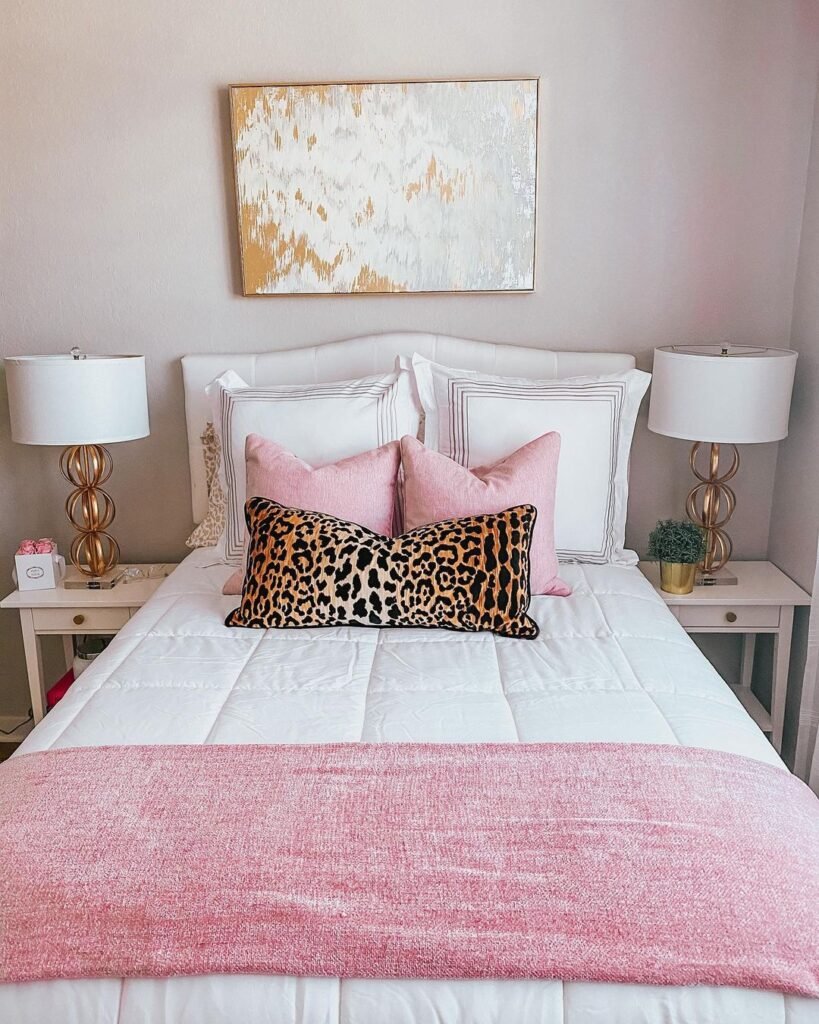 What better way to add some pizzazz to your living quarters than with a soothing art piece? Not only will it add some much-needed color to your space, but it might just help you de-stress after a long day of classes.
33. Make It Colorful
What's the easiest way to add some pizzazz to your pad? It's the color, baby! Go bold with a bright statement piece, or mix and match different hues for a playful vibe. It you like to buy them out, you have got plenty of options on pottery barn teen.
34. Decorate A Dime
Image and tutorial by The DIY Playbook
These "Decorate a Dime" tips allow you to transform your dorm room into a Pinterest-worthy paradise without draining your wallet.
35. Make Use Of A Wall paper
Image and tutorial by Roommates Decor
If you're desiring to spice up your lackluster living space, look no further than the power of wallpaper. Yes, you heard me right. Wallpaper isn't just for your grandma's living room anymore – it's a dorm room decor game-changer. 
36. Save Dollars By Trifting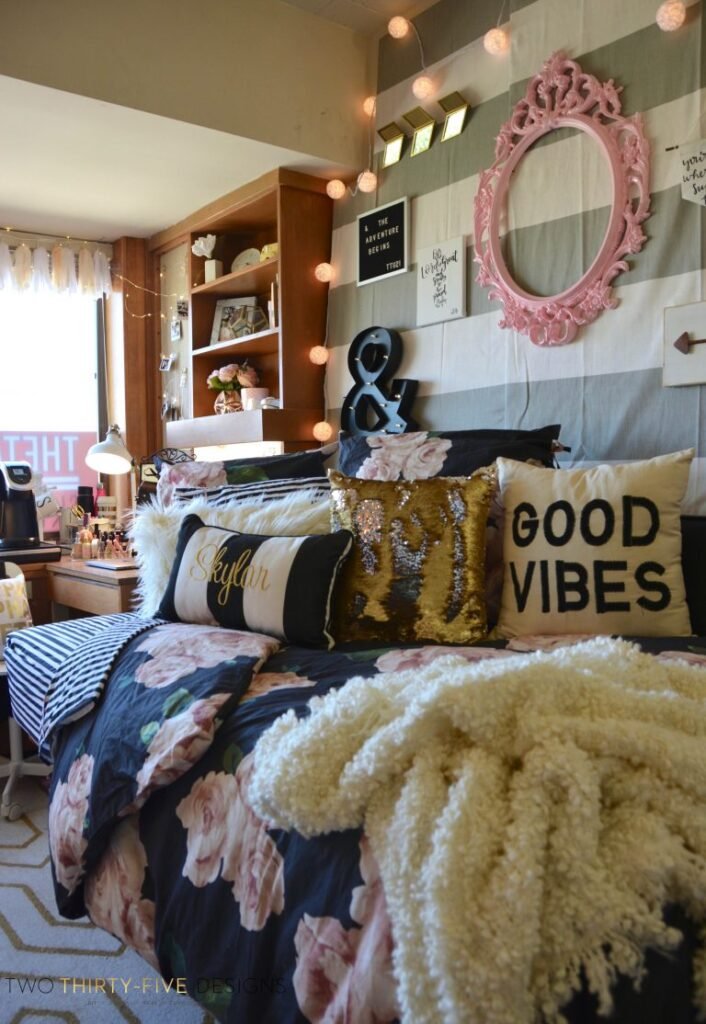 Image and tutorial by Two Thirty Five Designs
Want to spruce up your dorm room without breaking the bank? Then, it's time to hit the thrift store. That's right; you can channel your inner Macklemore and snag some seriously cool decor pieces to your dorm beds for a fraction of the cost.
37. Use Multifuctional Furniture
When decorating your tiny slice of campus heaven, you've got to get creative. And what's more creative than furniture that serves multiple purposes? Not only will it save you precious space, but it'll also make you feel like a design genius. So replace your college dorms desk chair to these stools where it can store your things as well.
38. Choose A Few fave Colours
If you're looking to spice up your living space, you need to know a straightforward dorm room idea: choose a few favorite colors. It'll make shopping for bedding and accent pieces a breeze – no more endless hours spent debating between mauve and lilac.
39. Stick To Solid Colored Furniture
Let's be honest; that zebra-print bean bag might seem like a good idea now, but trust me, after a few weeks of staring at those stripes, you'll feel more like a trapped animal than a trendy co-ed. So, please stick to the basics, keep it simple, and save the wild patterns for your wardrobe. Your future self will thank you.
40. Keep It Simple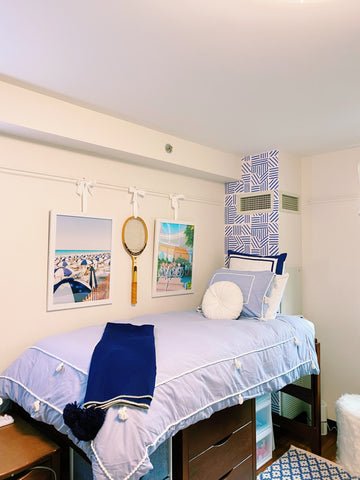 Image and tutorial by Emilyo And Bows
You may dream of a Pinterest-worthy room complete with twinkle lights and wall tapestries, but honestly, nobody has time for that. So instead, focus on a few key pieces that will make your space feel cozy without overwhelming it. 
If you love these dorm room decorating ideas, don't forget to pin the above image to your "Room decor" board.