Beyond Plagiarism Checks, Discover AI Originality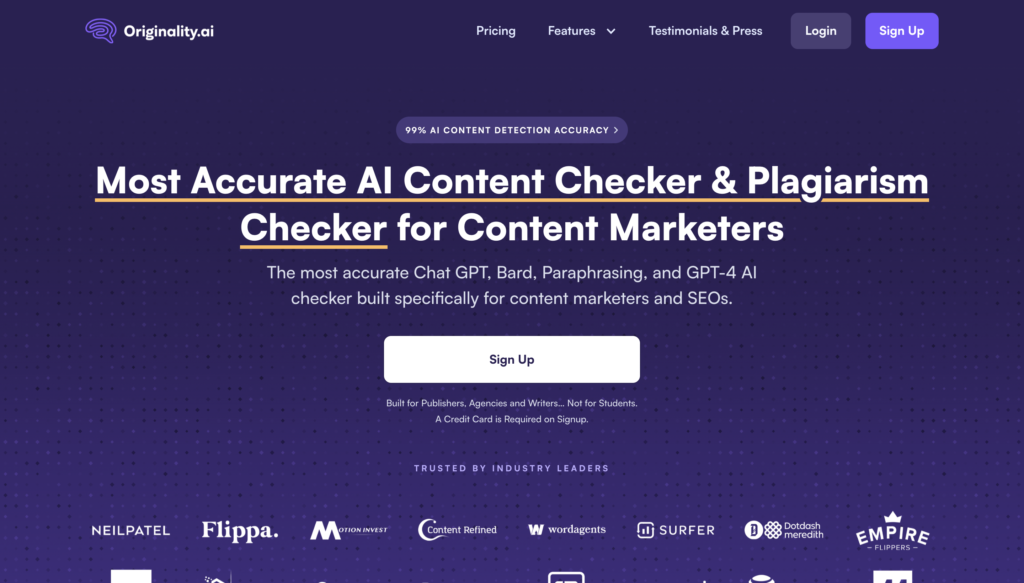 Originality.AI is a tool designed to cater to SEO professionals, content marketers, and web publishers. It focuses on checking the originality of content and detecting plagiarism, with a particular emphasis on AI-generated content. 
This tool is tailored for serious web publishers rather than academic users. It employs artificial intelligence algorithms to scan content for plagiarism, and uniquely, it can detect if AI tools were used to create the content.
One of the tool's standout features is its remarkable accuracy. With an accuracy rate of 96%, it outperforms competitors significantly, with the closest competitor only achieving 35%. The pricing model is set at $0.01 per credit, with each credit covering up to 100 words of scanning.
Originality.AI offers a range of useful features:
Chrome extension
API integration
Readability Checker
Text Compare
Team management function
Activity history to save scan results
The tool's capabilities extend to conducting full site scans, which can provide insights into the source of content and potentially protect against content updates from Google AI.
In conclusion, Originality.AI is a highly accurate and specialized tool designed to assist web publishers in ensuring the originality of their content. It distinguishes itself by detecting AI-generated content and providing users with a comprehensive solution to safeguard their work from plagiarism and maintain content quality.