AI-First Customer Experience Solution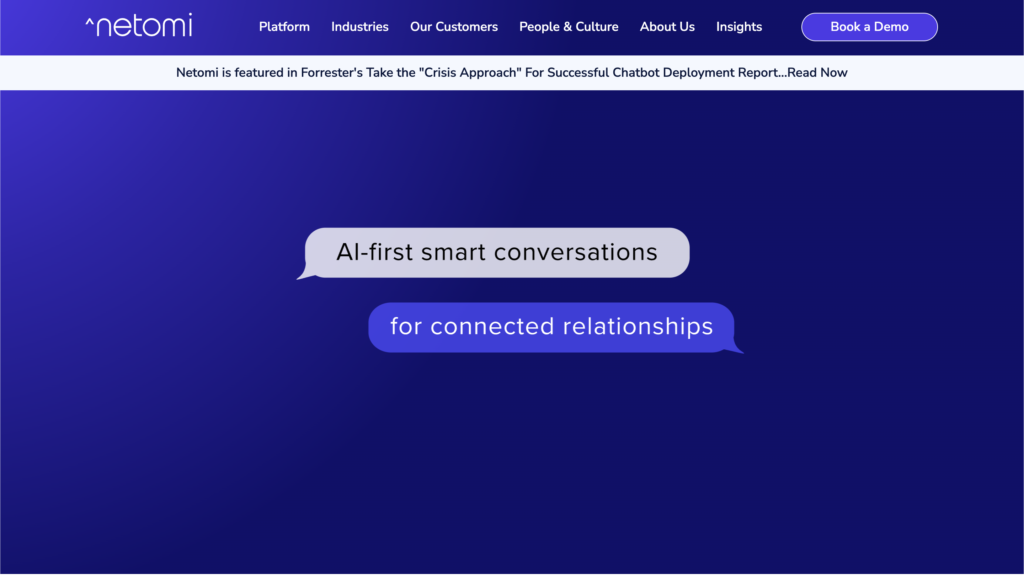 Netomi offers a cutting-edge AI customer service tool that redefines customer support for enterprise-level businesses. Going beyond conventional chatbots, Netomi's advanced platform automates customer service and support, enhancing interactions and resolutions for businesses.
Key Features and Benefits:
Automated Support: Netomi's platform is designed to address customer queries, automatically resolving up to 80% of routine inquiries in real-time.
Wide Range of Products: The tool encompasses conversational AI, email resolution, chat interfaces, and webforms, providing a comprehensive customer service solution.
Enhanced Support Team Efficiency: Netomi claims to boost support team capacity by 5x while achieving a 90% ticket resolution rate.
Multilingual Capabilities: Netomi offers customer support in over 100 languages, ensuring global reach.
Deep Integration: The tool seamlessly integrates with existing customer communication software and back-end business systems, allowing for end-to-end deep conversational channel integration.
Advanced AI Technology: Netomi's AI system employs deep learning, creating a unique customer intent model using historical context and sentiment analysis for improved customer satisfaction.
Autopilot and Co-Pilot Modes: The AI can operate in autopilot or co-pilot modes, offering either automatic resolution or assistive support.
Omnichannel Conversations: Netomi supports conversations across various channels including email, chat, messaging, voice, and SMS.
Netomi's Vision and Benefits: 
Netomi is a pioneer in AI-first customer experience, leveraging the Relationship Operating System to create memorable customer interactions. The AI-powered conversational chatbots resolve routine customer service inquiries, reducing resolution time, increasing customer satisfaction, and decreasing costs.
Testimonials from prominent brands like Warner Bros, Westjet, and HP underscore Netomi's credibility and effectiveness in delivering exceptional customer experiences. The platform's industry-leading resolution rates, improved resolution time, and increased customer satisfaction drive its value proposition.
Headquarters: San Mateo, California 
Founded: 2017
In Summary: 
Netomi's AI-first customer experience solution offers advanced automated support, enabling businesses to enhance customer interactions while reducing resolution times. 
With its AI-powered capabilities, deep integration, and omnichannel communication, Netomi delivers on its commitment to improving customer service quality and efficiency.