Your AI-Powered Business Name Solution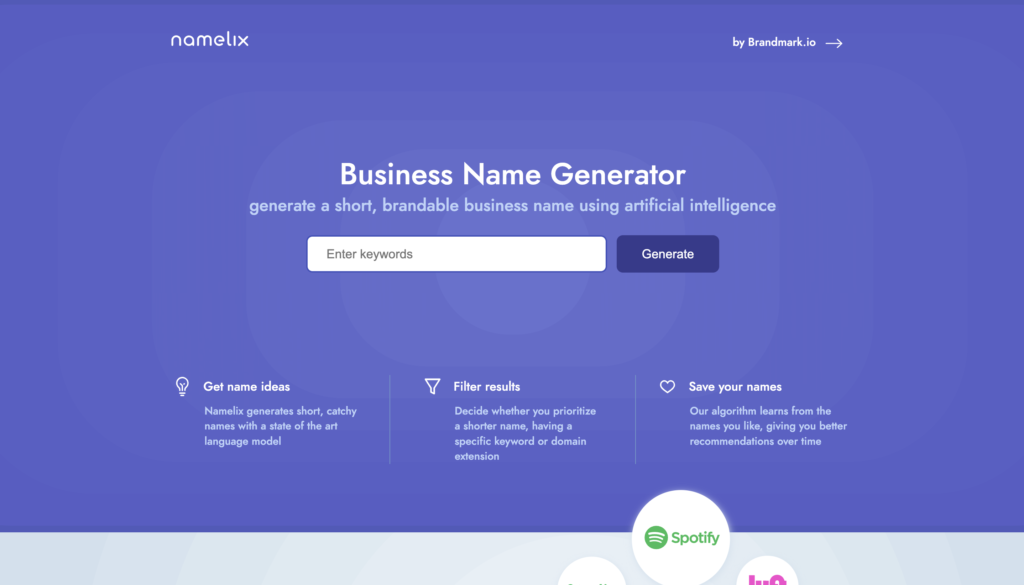 Namelix is a revolutionary AI-powered business name generator that transforms the daunting task of naming your business into a seamless and creative experience. Leveraging cutting-edge language models, Namelix crafts short, captivating, and brandable names that resonate with your business idea. 
Let's dive into the core features and benefits that make Namelix an essential tool for startups, rebranding efforts, and creative projects.
Core Features and Benefits:
AI-Powered Naming: Namelix employs advanced artificial intelligence to generate distinctive and memorable business names, ensuring your brand stands out in the competitive landscape.
Customizable Filters: Tailor your name search by setting preferences for name length, specific keywords, or domain extensions, allowing you to find the perfect fit for your business.
Learning Algorithm: Namelix evolves with your preferences. As you save names, its algorithm refines recommendations over time, delivering increasingly refined suggestions.
How Namelix Works: 
Utilizing a state-of-the-art language model, Namelix simplifies the naming process: 
Input Your Preferences: Provide your criteria for the name, such as length, keywords, or extensions. 
AI-Generated Magic: Namelix's AI engine generates a range of unique and relevant name options. 
Refined Recommendations: By learning from your likes, Namelix enhances its suggestions to align better with your vision.
Use Cases for Namelix: 
Startups: Discover a standout name that embodies your brand's essence from the very beginning. 
Rebranding Businesses: Breathe new life into your brand with a captivating and fresh name. 
Creative Projects: Whether it's a blog, podcast, or personal endeavor, Namelix helps you find a name that resonates.
Solving Naming Challenges: Namelix addresses the challenges of finding the perfect business name: 
Short Domains: Secure a memorable and concise name without the hefty cost of short domains. 
Lack of Appeal: Avoid uninspiring multi-word names by choosing a brandable and impactful name.
Pros and Cons of Namelix: 
Pros:
AI-Powered Precision: Generate unique, brandable names using the prowess of artificial intelligence. 
Customization: Filter names based on your preferences, ensuring a perfect match for your business. 
Learning Algorithm: Enjoy progressively refined recommendations as Namelix adapts to your choices. 
Affordability: Access a cost-effective naming solution without the expense of premium domains. 
Distinctive Branding: Craft names that not only stand out but also establish a strong brand identity.
Cons:
Internet Requirement: Namelix operates online, necessitating an internet connection for use. Limited Offline Access: The tool's functionality is constrained in the absence of internet connectivity. 
AI Dependency: Name quality hinges on AI's interpretation of user preferences. 
Human Element: Some users may miss the personal touch of a human-driven naming process. 
Subjective Perception: Catchiness and brandability are subjective, catering to different tastes.
Namelix redefines the naming journey, empowering you to create a captivating brand identity effortlessly. Its AI-driven approach, customizable filters, and learning algorithm ensure you find a name that resonates with your vision. Whether you're launching a startup or reimagining your brand, Namelix is the gateway to inspired and distinctive naming.